Silent films
My pearltree is a resource that I am using as an example for my class studying silent films.
Historical Context: Movies in the Great Depression. Photograph 1939 by Russell Lee.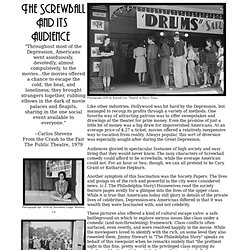 Theater in Waco, Texas Like other industries, Hollywood was hit hard by the Depression, but managed to recoup its profits through a variety of methods. Rin Tin Tin. Rin Tin Tin from the film Frozen River, 1929.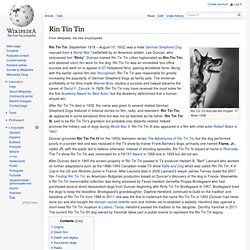 Rin Tin Tin (September 1918 – August 10, 1932) was a male German Shepherd Dog rescued from a World War I battlefield by an American soldier, Lee Duncan, who nicknamed him "Rinty". Duncan trained Rin Tin Tin (often hyphenated as Rin-Tin-Tin) and obtained silent film work for the dog. Rin Tin Tin was an immediate box office success and went on to appear in 27 Hollywood films, gaining worldwide fame. Silent Film. A silent film is a film which consists of only the picture, that is, it has no sound.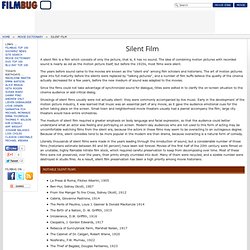 The idea of combining motion pictures with recorded sound is nearly as old as the motion picture itself, but before the 1920s, most films were silent. The years before sound came to the movies are known as the "silent era" among film scholars and historians. The art of motion pictures grew into full maturity before the silents were replaced by "talking pictures", and a number of film buffs believe the quality of the cinema actually decreased for a few years, before the new medium of sound was adapted to the movies.
History of Silent Movies. Many men contributed to the development of motion pictures, however the commercialisation of this medium is mostly due to Thomas Edison and his assistant William K.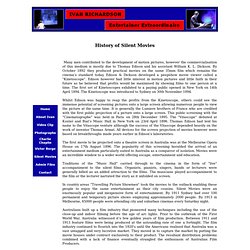 L. Dickson. By October 1892 they produced practical movies on the same 35mm film which remains the cinema's standard today. Edison & Dickson developed a peepshow movie viewer called a "Kinetoscope". Edison however had little interest in motion pictures and little faith in their future as he believed that profits would be maximised by showing films to one person at a time. Orlean explains Rin Tin Tin's appeal in new book. Even among wonder dogs, he was special.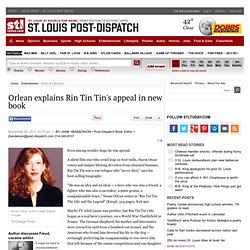 A silent film star who could leap 12-foot walls, charm Oscar voters and inspire lifelong devotion from obsessed humans, Rin Tin Tin was a war refugee who "never died," says his best-selling biography. "He was an idea and an ideal — a hero who was also a friend, a fighter who was also a caretaker, a mute genius, a companionable loner," Susan Orlean writes in "Rin Tin Tin: The Life and the Legend" (Knopf, 324 pages, $26.99).
Maybe TV celeb Lassie was prettier, but Rin Tin Tin's life began as a real hero's journey, on a World War I battlefield in France. The German shepherd, his mother and littermates were rescued in 1918 from a bombed-out kennel, and the American who found him devoted his life to the dog — seemingly preferring his companionship to two wives (the first left because of the canine competition) and one daughter. Silent Era Facts, Trivia, and Miscellany. First time people paid to see a movie at Koster & Bial's Music Hall in New York City: April 20, 1896 (Shakespeare's birthday) First Pittsburgh Nickelodeon showing of The Great Train Robbery: June 19, 1905 First film company arrives in Los Angeles: 1907 Chicago is the first city to censor movies: November 4, 1907 Number of Theatres in 1910: Approx. 13,000 Average length of a movie in 1910: 3 reels, approx. 30 minutes (read the addendum to this)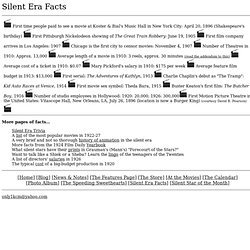 Silent Movies.
---