Writing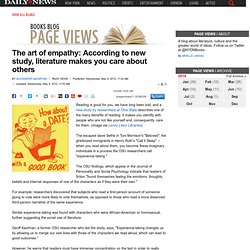 Reading is good for you, we have long been told, and a new study by researchers at Ohio State describes one of the many benefits of reading: It makes you identify with people who are not like yourself and, consequently, care for them. (Image via Lenny Likes Libraries) The escaped slave Sethe in Toni Morrison's "Beloved"; the ghettoized immigrants in Henry Roth's "Call it Sleep" -- when you read about them, you become these imaginary individuals in a process the OSU researchers call "experience-taking." The OSU findings, which appear in the Journal of Personality and Social Psychology indicate that readers of fiction "found themselves feeling the emotions, thoughts, beliefs and internal responses of one of the characters as if they were their own." For example, researchers discovered that subjects who read a first-person account of someone going to vote were more likely to vote themselves, as opposed to those who read a more distanced third-person narrative of the same experience.
The art of empathy: According to new study, literature makes you care about others | New York Daily News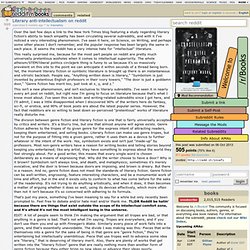 Over the last few days a link to the New York Times blog featuring a study regarding literary fiction's ability to teach empathy has been circulating several subreddits, and with it I've noticed a very interesting phenomenon. I've seen it here, on Science, on Writing, and perhaps some other places I don't remember, and the popular response has been largely the same in each place. It seems the reddit has a very intense hate for "intellectual" literature. This really surprised me, because for the most part people on reddit are pretty much universally pretentious assholes when it comes to intellectual superiority. The whole atheism/STEM/liberal politics circlejerk thing is funny to us because it's so massively prevalent on this site to the point we can anticipate it within seconds of a thread being born.
Literary anti-intellectualism on reddit : books
My personal favorite book is "Prince of Foxes" by Samuel Shellabarger. It hasn't been popular since the 1950s and it's hard to find copies, but the story is the best pick-me-up ever (and my dad used to read it out loud to me). It's basically a story of a bad man becoming a good man, and it's just a damn good and well-written adventure novel in general. I read it whenever I'm feeling low. Edited my grammatical errors, and I just have to say this thread has made my day! I'm about to blow so much money on new books, I can't wait!!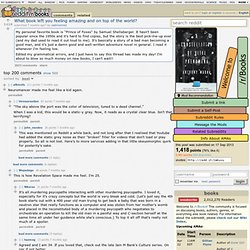 What book left you feeling amazing and on top of the world? : books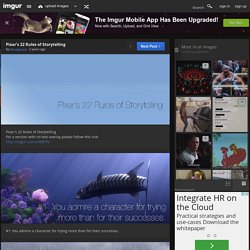 Pixar's 22 Rules of Storytelling
#1: You admire a character for trying more than for their successes. #2: You gotta keep in mind what's interesting to you as an audience, not what's fun to do as a writer. They can be v. different. #3: Trying for theme is important, but you won't see what the story is actually about til you're at the end of it. Now rewrite.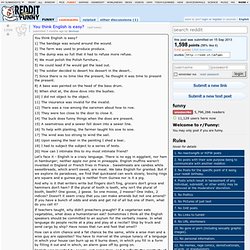 You think English is easy? : funny
You think English is easy? 1) The bandage was wound around the wound. 2) The farm was used to produce produce. 3) The dump was so full that it had to refuse more refuse. 4) We must polish the Polish furniture.. 5) He could lead if he would get the lead out.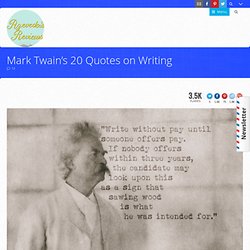 Mark Twain's 20 Quotes on Writing | azevedo's reviews
3.4K Flares Twitter 5 Facebook 1.6K Pin It Share 61 61 Reddit 1.8K Google+ 32 3.4K Flares × 1. "I haven't any right to criticize books, and I don't do it except when I hate them. I often want to criticize Jane Austen, but her books madden me so that I can't conceal my frenzy from the reader; and therefore I have to stop every time I begin. Every time I read Pride and Prejudice I want to dig her up and beat her over the skull with her own shin-bone."
Greatest short stories? : books
Hemingway on writing: 7 quotes all book lovers should read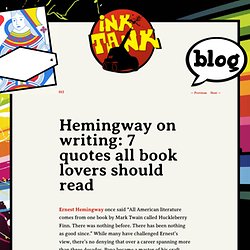 Ernest Hemingway once said "All American literature comes from one book by Mark Twain called Huckleberry Finn. There was nothing before. There has been nothing as good since." While many have challenged Ernest's view, there's no denying that over a career spanning more than three decades, Papa became a master of his craft.
1. The Diving Bell and the Butterfly This heartbreaking memoir, written by Jean-Dominique Bauby, follows the life of a narcissistic editor turned ward of the hospital after a sudden stroke leaves him paralyzed and unable to communicate. It'll make you realize how important the people in your life are, and how precious every moment really is.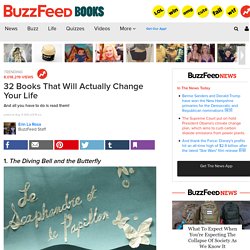 32 Books That Will Actually Change Your Life
Doris Lessing and the Perils of the Pseudonymous Novel
In the early nineteen-eighties, a literary agent in London sent the manuscript of a first novel titled "The Diary of a Good Neighbour," by a certain Jane Somers, to the publishing company Jonathan Cape. Cape still maintained the old-fashioned practice of employing in-house readers, and the manuscript duly appeared in their office, on the shelf reserved for agented material, guaranteeing it prompt and serious attention. Of the half-dozen or so men and women paid to sit around in armchairs perusing new manuscripts, the one who plucked it from the shelf happened to be the youngest, an aspiring poet and fiction writer of twenty-three. He didn't think much of it, and wrote a report saying so. After a brief discussion at the weekly editorial meeting, the book was turned down. Some time later, it was revealed that "Jane Somers" was, in fact, Doris Lessing.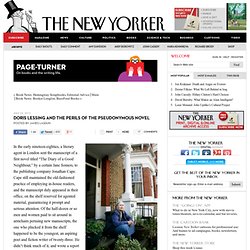 This post has its roots in a post from /r/booklists which linked to a blog post about the "Top 10 Top 100 Book Lists". This post linked to 10+ "Top 100" book lists from sources such as TIME magazine, Entertainment Weekly, Modern Library, etc. They were all in such different formats, and such different ways of being presented that I wanted to amalgamate all of these into one master "list" in order to compare them (thirteen lists in total since I also added in the first 100 of the Reddit's 200 favorite books).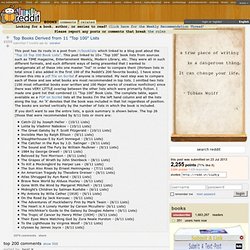 Top Books Derived from 11 "Top 100" Lists : books
Pixar's 22 Rules of Storytelling
These rules were originally tweeted by Emma Coats, Pixar's Story Artist. Number 9 on the list - When you're stuck, make a list of what wouldn't happen next – is a great one and can apply to writers in all genres. You admire a character for trying more than for their successes.You gotta keep in mind what's interesting to you as an audience, not what's fun to do as a writer. They can be very different.Trying for theme is important, but you won't see what the story is actually about til you're at the end of it.
- StumbleUpon
40 websites that will make you cleverer right now
khanacademy.org – Watch thousands of micro-lectures on topics ranging from history and medicine to chemistry and computer science. freerice.com – Help end world hunger by correctly answering multiple-choice quizzes on a wide variety of subjects. whizzpast.com- Learn about our awe inspiring past all in one wonderful place. artofmanliness.com – Blog/site dedicated to all things manly, great for learning life skills and good insights. unplugthetv.com – Randomly selects an educational video for you to watch. coursera.org – Educational site that works with universities to get their courses on the Internet, free for you to use.
The Thirty-Six Dramatic Situations is a descriptive list which was created by Georges Polti to categorize every dramatic situation that might occur in a story or performance. To do this Polti analyzed classical Greek texts, plus classical and contemporaneous French works. He also analyzed a handful of non-French authors.
The Thirty-Six Dramatic Situations - Wikipedia, the free encyclopedia
Anatole France
Anatole France (pronounced: [anatɔl fʁɑ̃s]; born François-Anatole Thibault,[1] [frɑ̃swa anatɔl tibo]; 16 April 1844 – 12 October 1924) was a French poet, journalist, and novelist. He was born in Paris, and died in Saint-Cyr-sur-Loire. He was a successful novelist, with several best-sellers. Ironic and skeptical, he was considered in his day the ideal French man of letters.
Joseph John Campbell (March 26, 1904 – October 30, 1987) was an American mythologist, writer and lecturer, best known for his work in comparative mythology and comparative religion. His work is vast, covering many aspects of the human experience. His philosophy is often summarized by his phrase: "Follow your bliss."[1] Life[edit]
Joseph Campbell
Philip Roth
How to get from an idea to a book
Conrad Black | National Post
New Page 2
The Art of Being Still
Metonymy
Margaret Atwood's 10 Rules of Writing
What Will Survive of Us Is Love: 9 Rules of Writing from Helen Dunmore
William Blake - Selection of Poetry from Allspirit
Le Degré zéro de l'écriture
Charles Dickens
Book Review - The Elephant's Journey - By José Saramago
Dick Turpin
Andrew Stanton: The clues to a great story
If You Forget Me
SHE IS A BOOK | WritersCafe.org | The Online Writing Community
How to Write a Novel Using the Snowflake Method | eHow.com
Poem Starters and Creative Writing Ideas
Whats The Big Idea? 5 Books To Inspire Innovation : NPR
Bibliomania - Free Online Literature and Study Guides
The 10 Types of Writers Block (and How to Overcome Them)
French expressions you wont learn at school -- Expressions fran軋ises en Anglais
The Name of the Wind: The Kingkiller Chronicle: Day One: Patrick Rothfuss: Amazon.com
Misanthropy
The Woman With 7 Personalities Part 2
Home | Writers and Company with Eleanor Wachtel | CBC Radio
Hilary Mantel's "Bring Up the Bodies" and Thomas Cromwell
Archetype
Super Sad True Habits of Highly Effective Writers: Part 1 | Tin House
How to use a semicolon
Crafting the novel's crucial first line
Asyndeton