Work Out
Get flash to fully experience Pearltrees
It was, he says, simply a reminder that he is human and capable of "a bad day at the starting blocks. We've talked about it but I explained to my coach that on that day my legs weren't feeling good and I wasn't feeling that energetic," he said. "Maybe it was lack of sleep or not enough food or something. I didn't have the energy I usually have so I've just been trying to get lots of sleep and eat properly.
Burn calories before you jump in the shower with this bodyweight circuit from Craig Ballantyne, C.S.C.S. Perform this circuit without rest between exercises. Then rest 1 minute and repeat the circuit.
My (NEW) Women's Program Here ---> "Visual Impact for Women" Gaining untargeted muscle is easy and over-rated . The problem with following the standard advice of concentrating on the "big 3" lifts (squat, deadlift, and bench press) is that it will most likely create a terrible looking, bulky physique.
Before we begin, take a look at this comparisson between a classic ancient statue and a modern Hollywood actor. Note the similarities in the musuclar development, levels of body fat (both are lean ) and proportions. To the left: the Doryphrous - the Spear-Bearer. The Greek sculptor Polykleitos designed this statue as an example of the "golden rule", showing the perfectly harmonious and balanced proportions of the human body in the sculpted form. To the right: the best James Bond since Sean Connery: Daniel Craig. Unfortunately news of a 3rd movie with Craig are not encouraging as of now.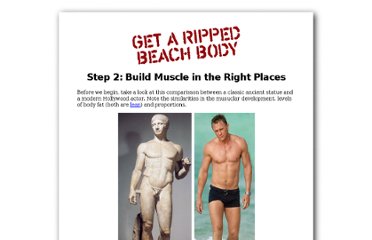 Here you can find training information from respected bodybuilding & fitness experts. Do you have a lagging body part? Or do you need a new workout routine? Click one of the sub-catagories below to get started. Photo's courtsey of Animalpak.