With trackbacks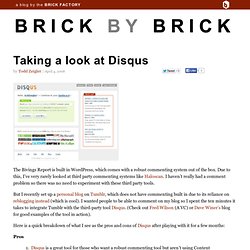 Taking a look at Disqus
The Bivings Report is built in WordPress, which comes with a robust commenting system out of the box.
Team Fublo: Getting pingbacks & trackbacks working with Disqus & Wordpress | Brooks Bayne
Testing Disqus Trackbacks vs WordPress Trackbacks | introspective snapshots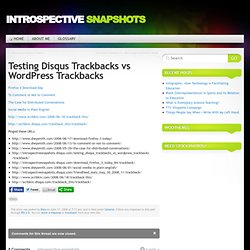 Firefox 3 Download Day To Comment or Not to Comment The Case for Distributed Conversations Social Media In Plain English http://www.scribkin.com/2008/06/18/trackback-this/ http://scribkin.disqus.com/trackback_this/trackback/
Getting pingbacks & trackbacks working with Disqus & WordPress | Fublo + Blog = Fublog
Trackback Flaws with Twitter, Disqus, and Wordpress? | IheartAnthony's Research
So just checking my notebook stats today and I saw that for some reason I had a major spike in hits. Typically the weekend is dead, but I guess science breaks the boundaries for social media promotion and web surfing traffic. Typically WordPress Stats don't reveal too much, but I noticed that I got a large number of visitors from Twitter and most of them ended up on my post of me complaining about the lack of functionality of Google+ Pages and the chaotic organization of Facebook Pages. Since my site stats only say referrers are coming from Twitter.com I have to go to my notebook page and check the Reactions in Disqus or check the tweet counter (which is part of the WordPress site stats add-on). Both features are supposed to track social media links and commentary about the posts, and in all honesty I have no idea how it works (maybe I can have Alex look into this).