UK Web Science
Sir Tim Berners-Lee, inventor of the World Wide Web, and prominent researcher Nigel Shadbolt will lead a new British Institute for Web Science with $45 million in government backing. The announcement was not without its critics, but the Institute could have a world-wide impact. The two men collaborated in helping build the excellent data.gov.uk and will now expand upon that work. Prime Minister Gordon Brown said of the move: "We are determined to go further in breaking down the walled garden of Government...This Institute will help place the UK at the cutting edge of research on the Semantic Web and other emerging web and internet technologies." Understanding the Web of Data
Good summary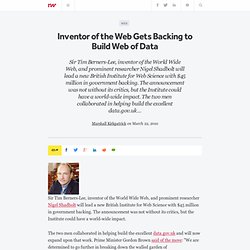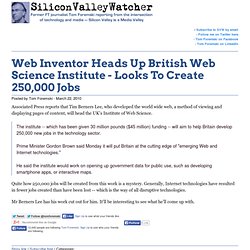 Posted by Tom Foremski - March 22, 2010 Associated Press reports that Tim Berners Lee, who developed the world wide web, a method of viewing and displaying pages of content, will head the UK's Institute of Web Science. The institute -- which has been given 30 million pounds ($45 million) funding -- will aim to help Britain develop 250,000 new jobs in the technology sector.
250.000 jobs ?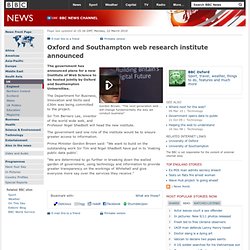 Gordon Brown: "The next generation web ... will change fundamentally the way we conduct business" The government has announced plans for a new Institute of Web Science to be hosted jointly by Oxford and Southampton Universities. The Department for Business, Innovation and Skills said £30m was being committed to the project. Sir Tim Berners Lee, inventor of the world wide web, and Professor Nigel Shadbolt will head the new institute. The government said one role of the institute would be to ensure greater access to information. Prime Minister Gordon Brown said: "We want to build on the outstanding work Sir Tim and Nigel Shadbolt have put in to 'making public data public'.
Gordon Brown video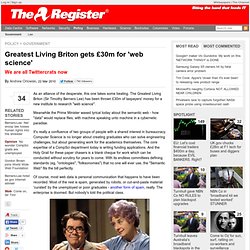 The sceptics
As an alliance of the desperate, this one takes some beating. The Greatest Living Briton (Sir Timothy Berners Lee) has been thrown £30m of taxpayers' money for a new institute to research "web science". Meanwhile the Prime Minister waxed lyrical today about the semantic web - how "data" would replace files, with machine speaking unto machine in a cybernetic paradise.