Real-time technologies
The Future
Enterprise collaboration company Jive Software posted today about a theory it's advancing on the rise of XMPP (called Jabber in IM) for powering communication services hosted in the cloud. The company also announced that it will include what it says will be the first XMPP-powered document sharing and collaboration tool in the forthcoming 2.0 release of its product Clearspace. If you think AJAX changed the web experience, imagine a web with decentralized, open standards-based IM at its center. That's an exciting thought.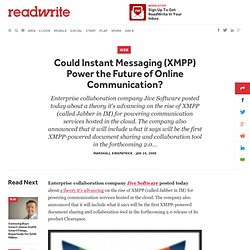 & The Real Time Web
& Semantic Web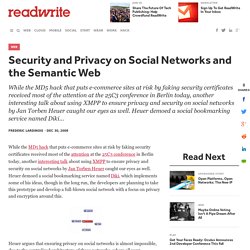 While the MD5 hack that puts e-commerce sites at risk by faking security certificates received most of the attention at the 25C3 conference in Berlin today, another interesting talk about using XMPP to ensure privacy and security on social networks by Jan Torben Heuer caught our eyes as well. Heuer demoed a social bookmarking service named Diki, which implements some of his ideas, though in the long run, the developers are planning to take this prototype and develop a full-blown social network with a focus on privacy and encryption around this. Heuer argues that ensuring privacy on social networks is almost impossible, due to the centralized architecture of these networks, where all your information is controlled by one corporate entity, and where the user has to simply trust the service provider without having any control over what this provider does with the information.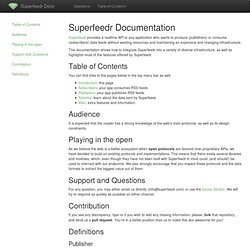 in Superfeedr
Superfeedr provides a realtime API to any application who wants to produce (publishers) or consume (subscribers) data feeds without wasting resources and maintaining an expensive and changing infrastructure. This documentation shows how to integrate Superfeedr into a variety of diverse infrastructure, as well as highlights most of the features offered by Superfeedr. Table of Contents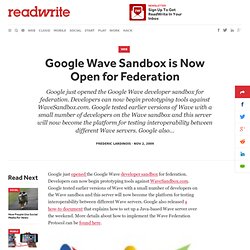 in Google Wave
Google just opened the Google Wave developer sandbox for federation. Developers can now begin prototyping tools against WaveSandbox.com. Google tested earlier versions of Wave with a small number of developers on the Wave sandbox and this server will now become the platform for testing interoperability between different Wave servers.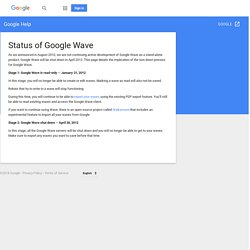 As we announced in August 2010, we are not continuing active development of Google Wave as a stand-alone product. Google Wave will be shut down in April 2012. This page details the implication of the turn down process for Google Wave. Stage 1: Google Wave is read-only -- January 31, 2012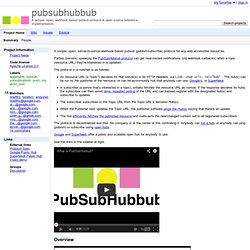 A simple, open, server-to-server webhook-based pubsub (publish/subscribe) protocol for any web accessible resources.
Real-time web protocol PubSubHubbub's co-creator Brett Slatkin, an engineer at Google, gave a talk at Facebook headquarters today about how the new information delivery system works and how Facebook can support it. He's published his deck on his blog and we've embedded it below as our Real-Time Web Article of the Day. If you're interested in making your content available in real time or more efficiently using real-time content syndicated from elsewhere, this presentation is a must-see. Each day leading up to the ReadWrite Real-Time Web Summit on October 15th we're highlighting one important article written by someone from outside our staff on the topic of the real-time web. Slatkin's 61-slide deck makes a great introduction to both the technical and strategic aspects of the PubSubHubbub protocol.
What is it ?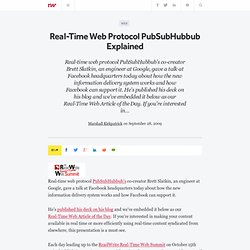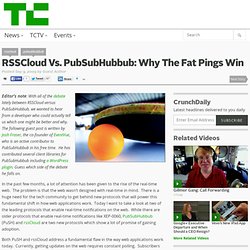 Editor's note: With all of the debate lately between RSSCloud versus PubSubHubbub, we wanted to hear from a developer who could actually tell us which one might be better and why.
vs RSSCloud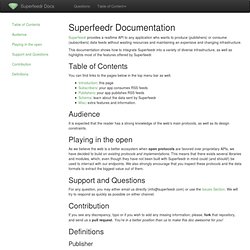 Superfeedr provides a realtime API to any application who wants to produce (publishers) or consume (subscribers) data feeds without wasting resources and maintaining an expensive and changing infrastructure.
in Superfeedr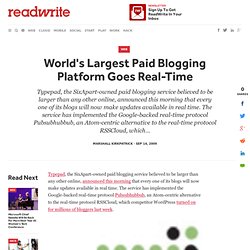 Typepad, the SixApart-owned paid blogging service believed to be larger than any other online, announced this morning that every one of its blogs will now make updates available in real time. The service has implemented the Google-backed real-time protocol Pubsubhubbub, an Atom-centric alternative to the real-time protocol RSSCloud, which competitor WordPress turned on for millions of bloggers last week. A fast-growing number of sites around the web are now flying the real-time banner, no longer requiring that news reading software poll them for updates several times an hour. With two of the largest blogging software providers now real-time, blogging could steal a little thunder back from immediacy-rich social networks like Facebook and Twitter. Josh Fraser, a Pubsubhubbub contributor, wrote a comparison of that protocol and RSSCloud on TechCrunch this weekend.
in Typepad
in Netvibes
The next version of popular web dashboard service Netvibes will push "near real-time" updates from feeds to the browser, a dramatic change in how the service works. Those feeds will be served up along with the standard suite of functional widgets the company has always provided. As the number of real-time feeds available around the web has rapidly grown over recent months with the rise of real-time publishing technologies, the big question has been: when will a major feed reader consume these feeds?
in Google Reader
Google Reader is about to get much faster for developers. You'll be pleased to note that Reader has just adopted the PubSubHubbub protocol for shared items. This means that instead of repeatedly requesting that Reader's shared items reload from the server, the feed automatically updates via a distributed hub model.
RSS cloud
in WordPress
All blogs on the WordPress.com platform and any WordPress.org blogs that opt-in (using this plug-in) will now make instant updates available to any RSS readers subscribed to a new feature called RSSCloud. There is currently only one RSS aggregator that supports RSSCloud, Dave Winer's brand-new reader River2. That will probably change very soon. Update: Within hours another RSS reader called LazyFeed has announced that it will support RSSCloud as well. RSSCloud is an element that's always been present in the RSS 2.0 spec but has drawn new attention with the rise of interest in the Real-Time Web. The element was just added to the WordPress code this afternoon.
in Netvibes