Présentation par TBL
The next Web of open, linked data
Mémo de 1989
On voit même le commentaire :) by nicolas Mar 16
C'est vrai que ce talk est super. Toute la valeur vient du faite d'avoir rassemblé ces données au même endroit. by nicolas Mar 16
An introductory overview of Linked Open Data in the context of cultural institutions. In computing, linked data (often capitalized as Linked Data) describes a method of publishing structured data so that it can be interlinked and become more useful. It builds upon standard Web technologies such as HTTP, RDF and URIs, but rather than using them to serve web pages for human readers, it extends them to share information in a way that can be read automatically by computers. This enables data from different sources to be connected and queried.[1]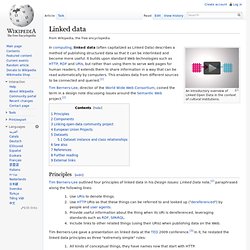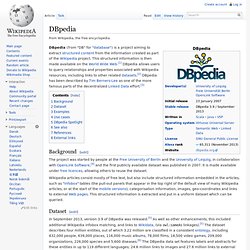 DBpedia — from "DB" for "database" — is a project aiming to extract structured content from the information created as part of the Wikipedia project. This structured information is then made available on the World Wide Web.[1] DBpedia allows users to query relationships and properties associated with Wikipedia resources, including links to other related datasets.[2] DBpedia has been described by Tim Berners-Lee as one of the more famous parts of the Linked Data project.[3] Background[edit] The project was started by people at the Free University of Berlin and the University of Leipzig, in collaboration with OpenLink Software,[4] and the first publicly available dataset was published in 2007. It is made available under free licences, allowing others to reuse the dataset.
Barack Obama's CIO pushes for Web 2.0 government
"...his first projects is to create a data.gov web site to "democratise" the federal government's vast information treasures by making them accessible in open formats..." by nicolas Mar 16
Il me parait tous les jours plus clair que nos amis les données veulent partir en vacance. Ce besoin de voyage est d'autant plus fort que le coût d'un trajet numérique Boston / Bangalore tend vers zéro. Et puis après tout, n'est ce pas dans notre nature de partager, copier, diffuser l'information ?
Libérons les données !
OpenStreetMap
Du coup j'ai rajouté pearltrees ;) by nicolas Mar 16
Screencast: DBpedia & W3C Linking Open Data
Screencast un peu vieux mais les concepts sont toujours d'actualité. by nicolas Mar 16
Le "Semantic Web Gang" parle du Linked Data
Avec également un passage sur les données gouvernementales... Il faudrait faire pareil en France mais je suis pas certain que les mentalités soient pretes :) by nicolas Mar 16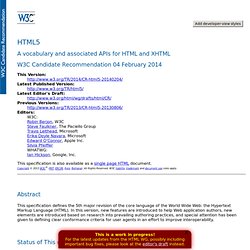 HTML
This specification defines the 5th major revision of the core language of the World Wide Web: the Hypertext Markup Language (HTML). In this version, new features are introduced to help Web application authors, new elements are introduced based on research into prevailing authoring practices, and special attention has been given to defining clear conformance criteria for user agents in an effort to improve interoperability. This section describes the status of this document at the time of its publication. Other documents may supersede this document. A list of current W3C publications and the latest revision of this technical report can be found in the W3C technical reports index at http://www.w3.org/TR/. If you wish to make comments regarding this document in a manner that is tracked by the W3C, please submit them via using our public bug database.
Le HTML a beaucoup évolué depuis 1990. Aujourd'hui la question se pose pour sa prochaine évolution: HTML5 ou XHTML2. by nicolas Mar 16
XHTML 2 vs. HTML 5
Hypertext
Web Naming and Addressing (URIs, URLs)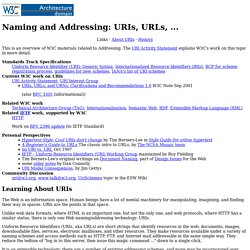 Links · About URIs · History This is an overview of W3C materials related to Addressing. The URI Activity Statement explains W3C's work on this topic in more detail. Standards Track Specifications
Les URI restent le coeur du Linked Data et du web de demain. by nicolas Mar 16
News | HTTP Activity | Specs | Software | Talks | Mailing lists | IETF | HTTP Extensions | WebMux | HTTP-NG | Web Characterization | Background Now that both HTTP extensions and HTTP/1.1 are stable specifications, W3C has closed the HTTP Activity. An effort to revise HTTP/1.1 started in the IETF httpbis Working Group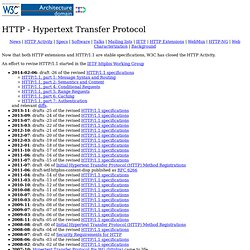 HTTP - Hypertext Transfer Protocol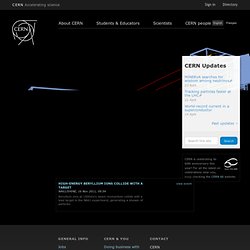 5 October 2012 ESO celebrates its 50th anniversary ALMA antennas under the Milky Way (Image: ESO) On 5 October 1962, five nations signed the convention that founded the European Southern Observatory (ESO). Now with 14 European member states, ESO's main mission is to provide state-of-the-art research facilities to astronomers and astrophysicists, allowing them to conduct front-line science in the best conditions. From the start, there have been close connections with CERN, which plays a similar role in the field of particle physics.
The year open data went worldwide