Présentation par TBL
The next Web of open, linked data. Mémo de 1989. Hans Rosling: New insights on poverty and life around. Linked Data. An introductory overview of Linked Open Data in the context of cultural institutions.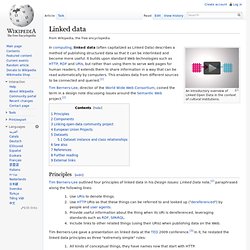 In computing, linked data (often capitalized as Linked Data) describes a method of publishing structured data so that it can be interlinked and become more useful. It builds upon standard Web technologies such as HTTP, RDF and URIs, but rather than using them to serve web pages for human readers, it extends them to share information in a way that can be read automatically by computers. This enables data from different sources to be connected and queried.[1] DBpedia. DBpedia ( from "DB" for "database" ) is a project aiming to extract structured content from the information created as part of the Wikipedia project.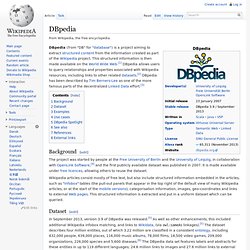 This structured information is then made available on the World Wide Web.[1] DBpedia allows users to query relationships and properties associated with Wikipedia resources, including links to other related datasets.[2] DBpedia has been described by Tim Berners-Lee as one of the more famous parts of the decentralized Linked Data effort.[3] Background[edit] The project was started by people at the Free University of Berlin and the University of Leipzig, in collaboration with OpenLink Software,[4] and the first publicly available dataset was published in 2007. It is made available under free licences, allowing others to reuse the dataset. Barack Obama's CIO pushes for Web 2.0 government. Barack Obama, US president, has appointed a new chief information officer who has already said he will act aggressively to change the federal government's use of IT.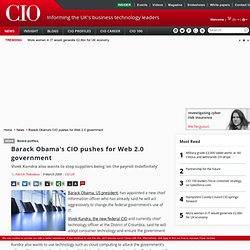 Vivek Kundra, the new federal CIO and currently chief technology officer at the District of Columbia, said he will adopt consumer technology and ensure the government data is open and accessible. Kundra also wants to use technology such as cloud computing to attack the government's culture of big-contract boondoggles and its hiring of contractors who end up "on the payroll indefinitely". Kundra, in a conference call on Thursday with reporters shortly after President Barack Obama named him as federal CIO said one of his first projects is to create a data.gov web site to "democratise" the federal government's vast information treasures by making them accessible in open formats and in feeds that can be used by application developers. Libérons les données ! Il me parait tous les jours plus clair que nos amis les données veulent partir en vacance.
Ce besoin de voyage est d'autant plus fort que le coût d'un trajet numérique Boston / Bangalore tend vers zéro. Et puis après tout, n'est ce pas dans notre nature de partager, copier, diffuser l'information ? OpenStreetMap. Screencast: DBpedia & W3C Linking Open Data. Le "Semantic Web Gang" parle du Linked Data. HTML. This specification defines the 5th major revision of the core language of the World Wide Web: the Hypertext Markup Language (HTML).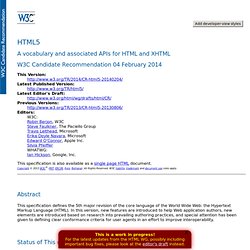 In this version, new features are introduced to help Web application authors, new elements are introduced based on research into prevailing authoring practices, and special attention has been given to defining clear conformance criteria for user agents in an effort to improve interoperability. This section describes the status of this document at the time of its publication. Other documents may supersede this document. A list of current W3C publications and the latest revision of this technical report can be found in the W3C technical reports index at If you wish to make comments regarding this document in a manner that is tracked by the W3C, please submit them via using our public bug database.
XHTML 2 vs. HTML 5. Hypertext. Web Naming and Addressing (URIs, URLs) Links · About URIs · History This is an overview of W3C materials related to Addressing.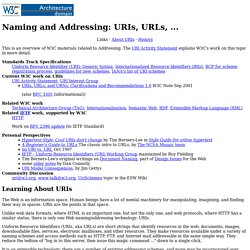 The URI Activity Statement explains W3C's work on this topic in more detail. Standards Track Specifications. HTTP - Hypertext Transfer Protocol. News | HTTP Activity | Specs | Software | Talks | Mailing lists | IETF | HTTP Extensions | WebMux | HTTP-NG | Web Characterization | Background Now that both HTTP extensions and HTTP/1.1 are stable specifications, W3C has closed the HTTP Activity.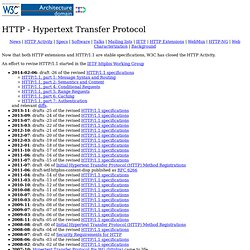 An effort to revise HTTP/1.1 started in the IETF httpbis Working Group. CERN. The year open data went worldwide.
---
nicolas Mar 16 2009

Dans cette arbre vous trouverez la vidéo sous-titré de Tim Berners Lee ainsi que des liens vers les exemples et les concepts cités dans la vidéo.
---