Présentation par TBL
The next Web of open, linked data
Mémo de 1989
On voit même le commentaire :) by nicolas Mar 16
C'est vrai que ce talk est super. Toute la valeur vient du faite d'avoir rassemblé ces données au même endroit. by nicolas Mar 16
An introductory overview of Linked Open Data in the context of cultural institutions. In computing , linked data describes a method of publishing structured data so that it can be interlinked and become more useful. It builds upon standard Web technologies such as HTTP and URIs , but rather than using them to serve web pages for human readers, it extends them to share information in a way that can be read automatically by computers. This enables data from different sources to be connected and queried. [ 1 ]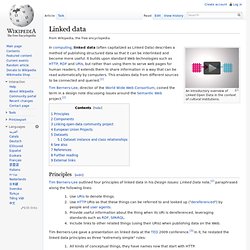 DBpedia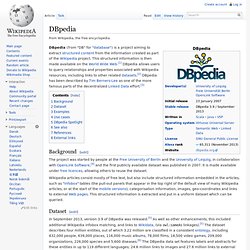 DBpedia is a project aiming to extract structured content from the information created as part of the Wikipedia project. This structured information is then made available on the World Wide Web . [ 2 ] DBpedia allows users to query relationships and properties associated with Wikipedia resources, including links to other related datasets . [ 3 ] DBpedia has been described by Tim Berners-Lee as one of the more famous parts of the Linked Data project. [ 4 ] [ edit ] Background The project was started by people at the Free University of Berlin and the University of Leipzig , in collaboration with OpenLink Software , [ 5 ] and the first publicly available dataset was published in 2007. It is made available under free licences , allowing others to reuse the dataset.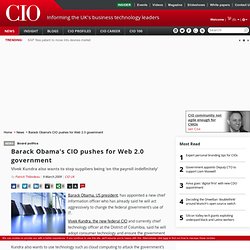 Barack Obama, US president , has appointed a new chief information officer who has already said he will act aggressively to change the federal government's use of IT. Vivek Kundra, the new federal CIO and currently chief technology officer at the District of Columbia, said he will adopt consumer technology and ensure the government data is open and accessible. Kundra also wants to use technology such as cloud computing to attack the government's culture of big-contract boondoggles and its hiring of contractors who end up "on the payroll indefinitely". Kundra, in a conference call on Thursday with reporters shortly after President Barack Obama named him as federal CIO said one of his first projects is to create a data.gov web site to "democratise" the federal government's vast information treasures by making them accessible in open formats and in feeds that can be used by application developers.
Barack Obama's CIO pushes for Web 2.0 government
"...his first projects is to create a data.gov web site to "democratise" the federal government's vast information treasures by making them accessible in open formats..." by nicolas Mar 16
Il me parait tous les jours plus clair que nos amis les données veulent partir en vacance. Ce besoin de voyage est d'autant plus fort que le coût d'un trajet numérique Boston / Bangalore tend vers zéro. Et puis après tout, n'est ce pas dans notre nature de partager, copier, diffuser l'information ?
Libérons les données !
OpenStreetMap The Free Wiki World Map examples: 'Alkmaar', 'Regent Street, Cambridge', 'CB2 5AQ', or 'post offices near Lünen' more examples...
OpenStreetMap
Du coup j'ai rajouté pearltrees ;) by nicolas Mar 16
avril 15th, 2008 · 3 Comments · Ce deuxième screencast montre les opportunités du web sémantique via des exemples concrets issus du projet Linking Open Data . Ce projet est mené par le W3C , son objectif est de référencer les plus grandes sources de données sémantiques. Le projet le plus abouti de cette initiative est sans aucun doute dbpedia .En effet Wikipedia est de loin l'encyclopédie la plus grande au monde et est accessible gratuitement sur le web. Les éditions de Wikipedia sont accessibles dans plus de 250 langues différentes avec une version anglaise contenant plus de 2 millions d'articles.
Screencast: DBpedia & W3C Linking Open Data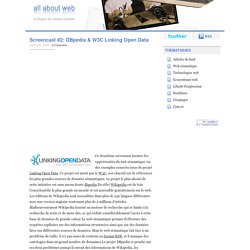 Screencast un peu vieux mais les concepts sont toujours d'actualité. by nicolas Mar 16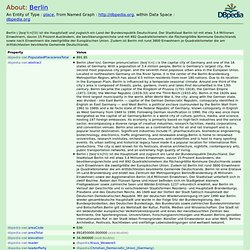 Berlin is the capital city of Germany and one of the 16 states of Germany. With a population of 3.5 million people, Berlin is Germany's largest city and is the second most populous city proper and the eighth most populous urban area in the European Union. Located in northeastern Germany, it is the center of the Berlin-Brandenburg Metropolitan Region, which has 5.9 million residents from over 190 nations.
Page DBPedia à propos de Berlin
Le "Semantic Web Gang" parle du Linked Data
Avec également un passage sur les données gouvernementales... Il faudrait faire pareil en France mais je suis pas certain que les mentalités soient pretes :) by nicolas Mar 16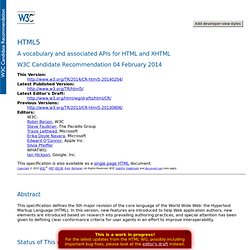 HTML
A Reformulation of HTML 4 in XML 1.0 W3C Recommendation 26 January 2000, revised 1 August 2002 This version : http://www.w3.org/TR/2002/REC-xhtml1-20020801 Latest version: http://www.w3.org/TR/xhtml1
Le HTML a beaucoup évolué depuis 1990. Aujourd'hui la question se pose pour sa prochaine évolution: HTML5 ou XHTML2. by nicolas Mar 16
XHTML 2 vs. HTML 5
Hypertext
Web Naming and Addressing (URIs, URLs)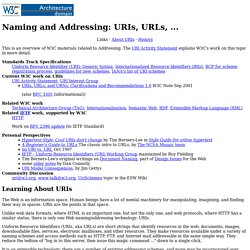 Links · About URIs · History This is an overview of W3C materials related to Addressing. The URI Activity Statement explains W3C's work on this topic in more detail. Standards Track Specifications
Les URI restent le coeur du Linked Data et du web de demain. by nicolas Mar 16
News | HTTP Activity | Specs | Software | Talks | Mailing lists | IETF | HTTP Extensions | WebMux | HTTP-NG | Web Characterization | Background Now that both HTTP extensions and HTTP/1.1 are stable specifications, W3C has closed the HTTP Activity. An effort to revise HTTP/1.1 started in the IETF httpbis Working Group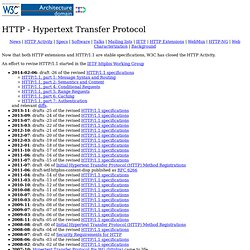 HTTP - Hypertext Transfer Protocol
5 October 2012 ESO celebrates its 50th anniversary ALMA antennas under the Milky Way (Image: ESO) On 5 October 1962, five nations signed the convention that founded the European Southern Observatory (ESO). Now with 14 European member states, ESO's main mission is to provide state-of-the-art research facilities to astronomers and astrophysicists, allowing them to conduct front-line science in the best conditions. From the start, there have been close connections with CERN, which plays a similar role in the field of particle physics.
The year open data went worldwide