Policy
The UK's version of data.gov, ably put together by the Cabinet Office, has just launched in private beta. We got to have a sneak peak, and it's great! The site is a blend of the US's equivalent, data.gov, and Directgov | Innovate.
They've got a plan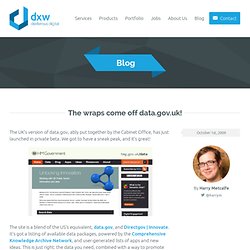 John Sheridan talks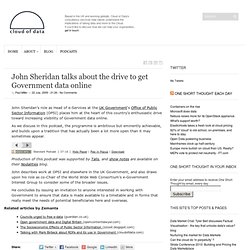 John Sheridan's role as Head of e-Services at the UK Government's Office of Public Sector Information (OPSI) places him at the heart of this country's enthusiastic drive toward increasing visibility of Government data online. As we discuss in this podcast, the programme is ambitious but eminently achievable, and builds upon a tradition that has actually been a lot more open than it may sometimes appear. Production of this podcast was supported by Talis, and show notes are available on their Nodalities blog. John describes work at OPSI and elsewhere in the UK Government, and also draws upon his role as co-Chair of the World Wide Web Consortium's e-Government Interest Group to consider some of the broader issues. He concludes by issuing an invitation to anyone interested in working with Government to ensure that data is made available to a timetable and in forms that really meet the needs of potential beneficiaries here and overseas.
Tom Steinberg talks
Semantic Web Gang
Radically opening up
Launch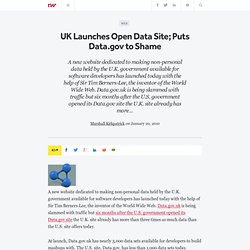 A new website dedicated to making non-personal data held by the U.K. government available for software developers has launched today with the help of Sir Tim Berners-Lee, the inventor of the World Wide Web. Data.gov.uk is being slammed with traffic but six months after the U.S. government opened its Data.gov site the U.K. site already has more than three times as much data than the U.S. site offers today. At launch, Data.gov.uk has nearly 3,000 data sets available for developers to build mashups with. The U.S. site, Data.gov, has less than 1,000 data sets today. The UK government has been a big supporter of innovation built on top of public data.
Over the election period we have been continuing our work behind the scenes based on your feedback, and we are launching a number of new features to data.gov.uk which we hope improves the site for you. With over 3,000 datasets now available on the site, a number of you have suggested that we needed to provide different ways into the information. We have upgraded the site to provide faceted search.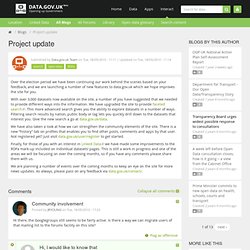 Project update
July 2010
Here's a novel concept to encourage open government applications: pay your best developers. Apparently that's exactly what the UK's Office of Public Sector Information would like to do now that it has launched Data.gov.uk. According to a ZDNet report, the agency would like to pay to license mashups when they are used by the government.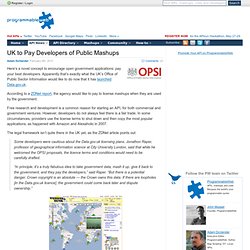 UK pays mashups developers
Gov cloud computing system ?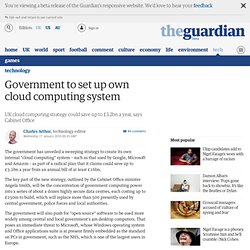 The government has unveiled a sweeping strategy to create its own internal "cloud computing" system – such as that used by Google, Microsoft and Amazon – as part of a radical plan that it claims could save up to £3.2bn a year from an annual bill of at least £16bn. The key part of the new strategy, outlined by the Cabinet Office minister Angela Smith, will be the concentration of government computing power into a series of about a dozen highly secure data centres, each costing up to £250m to build, which will replace more than 500 presently used by central government, police forces and local authorities. The government will also push for "open source" software to be used more widely among central and local government's 4m desktop computers.