Performance
Speedy Sprites
Result after a 3 weeks work on HTML5 games performance. by nicolas Jan 27
1h keynote
Most of webapps spend 80% of their time outside of the server by nicolas Jan 27
There are huge performance issues depending of browsers and techniques used draw / animate. It means there is a huge need of a framework. by nicolas Jan 27
Browsers performance
Two weeks ago Bruce and I released JSGameBench version 0.1. Today marks the release of version 0.2, a much faster and cleaner version. We continue to learn both from tightening the code and from the strong HTML5 community.
Integers are Your Friends
Memory
Welcome back. Since version 0.3 was released, we've seen great progress across the browser landscape. Internet Explorer 9 was released. Internet Explorer 10 opened platform preview. Firefox 4 and Mobile Firefox both emerged from beta, bringing WebGL functionality to desktop and mobile. Exciting times!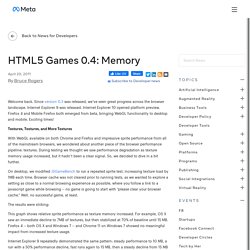 HTML5 Resource Center
ringmark