My apps
Gantt. Mp3Cut. Floorplanner. Vector Magic. Billet d'avion. Billet d'avion. Dealype. Audiko. UltraSurf. UltraSurf is a free software which enables users inside countries with heavy Internet censorship to visit any public web sites in the world safely and freely.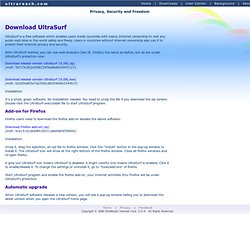 Users in countries without internet censorship also use it to protect their internet privacy and security. With UltraSurf started, you can use web browsers (like IE, Firefox) the same as before, but all are under UltraSurf's protection now. Download release version UltraSurf 10.08(.zip) (md5: 5b715c562a598229f3ed6afec5945127) Twitter Trackbacks. Diagrams. MXP4. Mockups. Quickmeme. Socially Awkward Penguin Success Kid First World Problems Futurama Fry Actual Advice Mallard Bad Luck Brian.
Dessin SMS animaux. Trouvez un joli dessin pour SMS d'animal.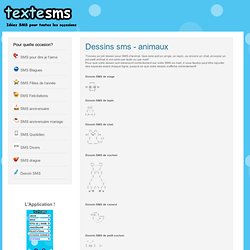 Que cela soit un singe, un lapin, ou encore un chat, envoyez un joli petit animal à vos amis par texto ou par mail! Pour que votre dessin soit retranscrit correctement sur votre SMS ou mail, il vous faudra peut être rajouter des espaces avant chaque ligne, jusqu'a ce que votre dessin s'affiche correctement! All text symbols. AjaXplorer. Diagrams. WinDirStat.
---