My apps
Gantt. Mp3Cut. Floorplanner. Vector Magic. Billet d'avion. Billet d'avion. Dealype. Audiko. UltraSurf. UltraSurf is a free software which enables users inside countries with heavy Internet censorship to visit any public web sites in the world safely and freely.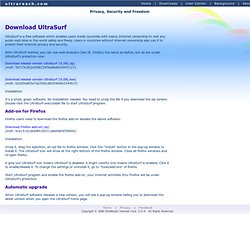 Users in countries without internet censorship also use it to protect their internet privacy and security. With UltraSurf started, you can use web browsers (like IE, Firefox) the same as before, but all are under UltraSurf's protection now. Download release version UltraSurf 10.08(.zip) (md5: 5b715c562a598229f3ed6afec5945127) Twitter Trackbacks. Diagrams. MXP4. Mockups. Quickmeme. Socially Awkward Penguin Success Kid First World Problems Futurama Fry Actual Advice Mallard Bad Luck Brian.
All text symbols. Beautify your statuses, comments, messages and your general texting life with symbols.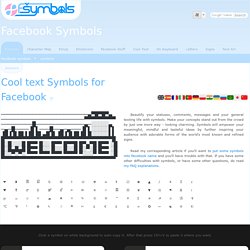 Make your concepts stand out from the crowd by just one more way - looking charming. Symbols will empower your meaningful, mindful and tasteful ideas by further inspiring your audience with adorable forms of the world's most known and refined signs. Read my corresponding article if you'll want to put some symbols into Facebook name and you'll have trouble with that. AjaXplorer. Diagrams. WinDirStat.
---