Multi touch
Get flash to fully experience Pearltrees
At Adobe MAX 2009, Kevin Lynch introduced the next release of Adobe Flash Player on Adobe Labs. Flash Player 10.1 public prerelease is an exciting release for Adobe and for you as a content creator. You are already able to build powerful and creative experiences and reach your audience whether they are on Microsoft Windows, Apple Mac OS, Linux, or Solaris. Flash Player 10.1 takes our cross-platform promise even farther, making it possible for you to continue the conversation with your customer when the computer is turned off and the laptop is closed. With this first realization of the Open Screen Project , we have been working internally and with our partners to produce Flash Player 10.1 for Palm webOS, Google Android, Nokia Symbian, and Microsoft Windows Mobile operating systems.
Le Flash Player 10.1 propose une API pour gérer les événements multi-touch. Les écrans multi-touch sur mobiles, PCs ou bornes, vont créer de nouveaux usages et codes de navigation. Je me suis intéressé à deux projets qui sont réalisés en Flash, et en « Simple Touch ». Lorsque l'on ne dispose que d'un doigt, il faut aussi savoir innover pour proposer une expérience efficace.
Merci pour vos commentaires sur la vidéo que Thibault et moi avons tournée pour démontrer les capacités du Flash Player 10.1 sur le Google Nexus One. La vidéo a été vue plus de 18000 fois en moins de 48 heures. Dans le post sur ce blog, Laurent me demande de tester le Nexus One équipe de Flash sur une démo 3D: http://temp.roxik.com/datas/perform .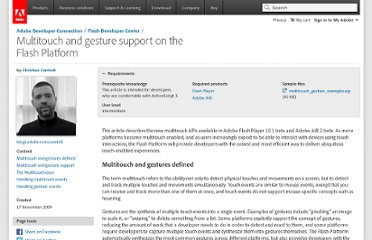 All multitouch and gesture interactions start with the Multitouch class. It contains several important properties necessary for authoring a multitouch or gesture-enabled application. Discovering support Before registering for any multitouch or gesture events, it's a good idea to use the Multitouch.supportsGestureEvents and the Multitouch.supportsTouchEvents properties in order to determine whether or not the device on which your content is running supports the types of events that your application needs. If you're writing an application specifically for the iPhone, you might not need to use these properties; but if you're writing content that you want to run in multiple places, these two properties will come in very useful. Setting the input mode