Local data visualization
The New York Times. How different groups voted. Inflation. Swine Flu. The Jobless Rate for People Like You. Linked Open Data. New york times data visualization. BBC News. BBC launched an informative multimedia package titled "Mapping UK's Teen Murder Toll" right before Christmas.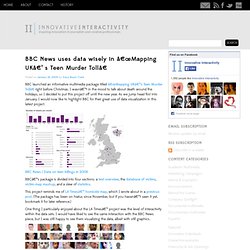 I wasn't in the mood to talk about death around the holidays, so I decided to put this project off until the new year. As we jump head first into January, I would now like to highlight BBC for their great use of data visualization in this latest project. BBC's package is divided into four sections: a text overview, the database of victims, victim-map mashup, and a slew of statistics. British Timeline. DataArt. USA Today. Jobs growth forecast. Economic consulting firm Moody's Analytics has forecasted U.S. job growth by geographic region and by industry.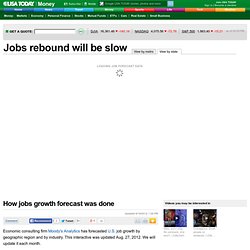 This interactive was updated Aug. 27, 2012. We will update it each month. This graphic shows actual job growth through second-quarter 2012 and Moody's Analytics' forecasted job growth for third-quarter 2012 through second-quarter 2016. Tiger Watch. Nation's GDP. The index predicts future real GDP growth (gross domestic product, adjusted for inflation) based on 11 leading economic and financial indicators.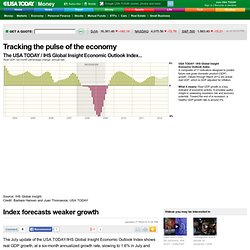 Four of the 11 indicators were positive in July, up from three in June. Positive indicators include hours worked, real capital goods orders, the real money supply and light-vehicle sales, all of which increased. TIME. New England Journal of Medicine H1N1 map. Digg labs. Carsonified. OECD Factbook eXplorer for analysing country statistics. Real-time Web Monitor. Network Performance Comparison.
Network Overview. Stopping the Coal Rush Map > Environmental Law Program > Sierra. Global map - Annex I.
---