LinkedData vs Ontology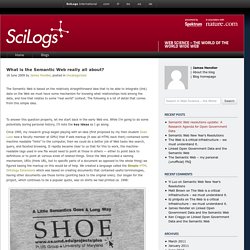 The Semantic Web is based on the relatively straightforward idea that to be able to integrate (link) data on the Web we must have some mechanism for knowing what relationships hold among the data, and how that relates to some "real world" context. The following is a lot of detail that comes from this simple idea. To answer this question properly, let me start back in the early Web era. While I'm going to do some potentially boring personal history, I'll note the key ideas as I go along.
Article très interessant sur l'histoire du web sémantique. James Hendler insiste sur le fait que la vision historique du web sémantique est de lier les données et que cela ne nécessite en rien l'utilisation d'ontologies compliquées. by nicolas Jul 4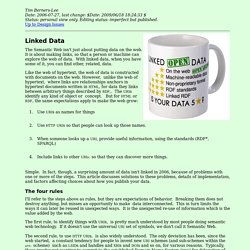 Up to Design Issues The Semantic Web isn't just about putting data on the web.
Thus, ontologies are not required. by nicolas Jul 4
1. Use URIs as names for things 2. Use HTTP URIs so that people can look up those names. 3. When someone looks up a URI, provide useful information, using the standards (RDF, SPARQL) 4. Include links to other URIs. so that they can discover more things. by nicolas Jul 4
La boîte à souvenirs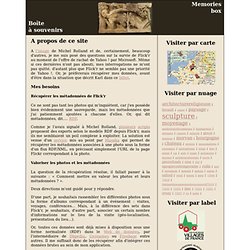 A l'image de Michel Rolland et de, certainement, beaucoup d'autres, je me suis posé des questions sur la survie de Flick'r au moment de l'offre de rachat de Yahoo ! par Microsoft.
Gautier n'a pas eu besoin d'intéroger d'ontologies pour parcourir les données de Flickr et Wikipedia. by nicolas Jul 4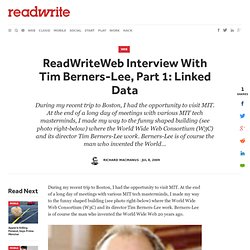 During my recent trip to Boston, I had the opportunity to visit MIT. At the end of a long day of meetings with various MIT tech masterminds, I made my way to the funny shaped building (see photo right-below) where the World Wide Web Consortium (W3C) and its director Tim Berners-Lee work. Berners-Lee is of course the man who invented the World Wide Web 20 years ago. This was my first meeting with the Web's creator, whose work and philosophy was a direct inspiration for me when I launched ReadWriteWeb back in 2003.1 After shaking hands, I told Tim Berners-Lee that this blog's name was in part inspired by the first browser, which he developed, called "WorldWideWeb".
Vous comprenez quoi dans "The Linked Data community tend to use a subset of that, of OWL for example." ? Je pense qu'il fait allusion à OWL DL... by nicolas Jul 10
...linked data actually uses a small slice of all the various technologies that people have put together and standardized for the Semantic Web.... by nicolas Jul 10
Cette vidéo qui ne parlait pas, en fait, de web sémantique
Notre langue, c'est la traduction
"on rencontre encore ça et là dans les sphères du Web sémantique quelques irréductibles partisans du sens unique, de la langue parfaite et de lontologie scientifique, inguérissables héritiers des bâtisseurs de Babel" +1 ! by nicolas Nov 17