Human resources
Consulting Chronicles
I'm trying to write my wrongs, But it's funny these same wrongs helped me write this song —Kanye West, Touch the Sky Artist: Kanye West Track: Touch the Sky Album: Late Registration Released: 2006 Label: Roc-A-Fella, Def Jam Shortly after we sold Opsware to Hewlett-Packard, I had a conversation with the legendary venture capitalist Doug Leone of Sequoia Capital. He wanted to hear the story of how we went from doomed in the eyes of the world to a $1.6B outcome with no recapitalization. After I took him through the details including several near bankruptcies, a stock price of $0.35/share, unlimited bad press and 3 separate layoffs where we lost a total 400 employees, he was most amazed by the layoffs. He said that during his over 20 years in the venture capital business, he'd never seen a company recover from consecutive layoffs and achieve a billion dollar plus outcome.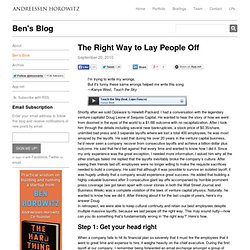 The Right Way to Lay People Off
By Craig Driscoll, contributor As the recruiting partner at venture capital firm Highland Capital Partners, I have the privilege of working with some truly remarkable young entrepreneurs. My expertise is in helping them build exceptional teams. While I don't have all the answers, I've seen enough to know what works and what doesn't.
Build great teams
Managing Employees in Their Twenties
by Michael Fertik | 3:10 PM January 19, 2011 I've been lucky to work with some awesome employees in their twenties.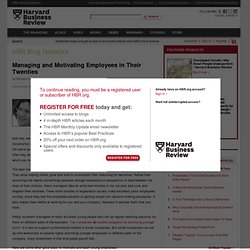 Pearltrees recrute un ingénieur