HPC
The Blue Gene/P supercomputer at Argonne National Lab runs over 250,000 processors using normal data center air conditioning, grouped in 72 racks/cabinets connected by a high-speed optical network[1] A supercomputer is a computer at the frontline of contemporary processing capacity – particularly speed of calculation.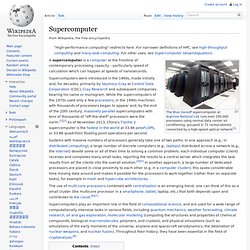 High performance computing (HPC)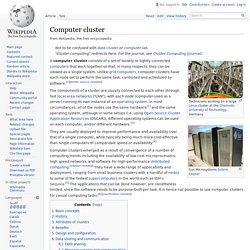 A computer cluster consists of a set of loosely connected or tightly connected computers that work together so that in many respects they can be viewed as a single system. The components of a cluster are usually connected to each other through fast local area networks ("LAN"), with each node (computer used as a server) running its own instance of an operating system. Computer clusters emerged as a result of convergence of a number of computing trends including the availability of low cost microprocessors, high speed networks, and software for high performance distributed computing. Clusters are usually deployed to improve performance and availability over that of a single computer, while typically being much more cost-effective than single computers of comparable speed or availability.[1] Basic concepts[edit]
Message Passing Interface (MPI)
History[edit] The message passing interface effort began in the summer of 1991 when a small group of researchers started discussions at a mountain retreat in Austria. Out of that discussion came a Workshop on Standards for Message Passing in a Distributed Memory Environment held on April 29–30, 1992 in Williamsburg, Virginia. At this workshop the basic features essential to a standard message-passing interface were discussed, and a working group established to continue the standardization process. Jack Dongarra, Rolf Hempel, Tony Hey, and David W.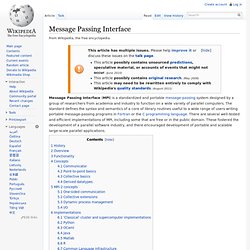 Amazon HPC
This page contains the following categories of information. Click to jump down: Elastic Web-Scale Computing – Amazon EC2 enables you to increase or decrease capacity within minutes, not hours or days. You can commission one, hundreds or even thousands of server instances simultaneously.
Pricing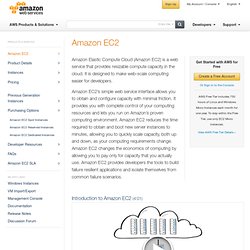 FAQ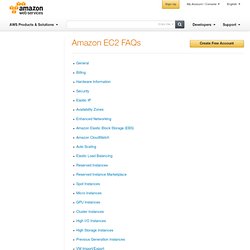 Q: What is Amazon Elastic Compute Cloud (Amazon EC2)? Amazon Elastic Compute Cloud (Amazon EC2) is a web service that provides resizable compute capacity in the cloud. It is designed to make web-scale computing easier for developers. Q: What can I do with Amazon EC2?
HPC in the Cloud