Guardian
Apps
Mashup example
Music and Literary Apps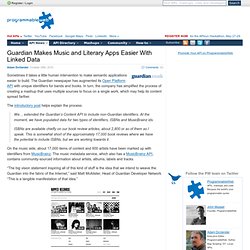 Sometimes it takes a little human intervention to make semantic applications easier to build. The Guardian newspaper has augmented its Open Platform API with unique identifiers for bands and books.
Almost every talk about Linked Data I've seen inevitably at some point shows the 'linked data' universe bubble diagram .
Value to the news industry?
Podcast
Linked Data at the Guardian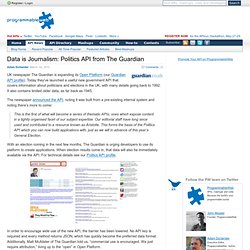 UK newspaper The Guardian is expanding its Open Platform (our Guardian API profile ).
Data is Journalism: Politics API from The Guardian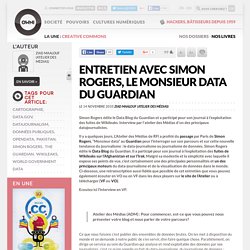 Simon Rogers édite le Data Blog du Guardian et a participé pour son journal à l'exploitation des fuites de Wikileaks. Interview par l'atelier des Médias d'un des principaux datajournalistes.
Simon Rogers