Guardian
Apps
Mashup example
Music and Literary Apps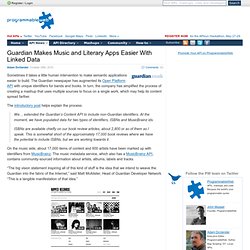 Sometimes it takes a little human intervention to make semantic applications easier to build. The Guardian newspaper has augmented its Open Platform API with unique identifiers for bands and books. In turn, the company has simplified the process of creating a mashup that uses multiple sources to focus on a single work, which may help its content spread farther. The introductory post helps explain the process: We… extended the Guardian's Content API to include non-Guardian identifiers. At the moment, we have populated data for two types of identifiers, ISBNs and MusicBrainz ids.ISBNs are available chiefly on our book review articles, about 2,800 or so of them as I speak.
Almost every talk about Linked Data I've seen inevitably at some point shows the 'linked data' universe bubble diagram. Every time I see it, it has grown in size. However, the first time I saw it, I noticed a glaring omission. None of our major UK print-based news organisations featured on it, and that fact is yet to change. We now know that, whatever the outcome of the next election, we are only going to see more Government and state gathered data published, not less.
Value to the news industry?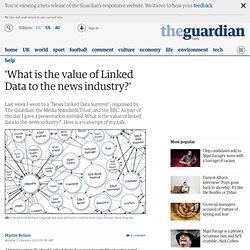 Linked Data at the Guardian
The semantic web is given a rough raking by the syntactic web, and it is not impossible to see why when you first get taken down the SPARQL/RDF/Ontology rabbit hole. It is not great fun learning to develop with the semantic web today. (As an aside, using a semi-SQL model as a primary metaphor in SPARQL did not help me personally. But then, SQL has always seemed like an assembly language designed by Prolog programmers) But the capability to use semantic data to accurately join data is fantastically powerful.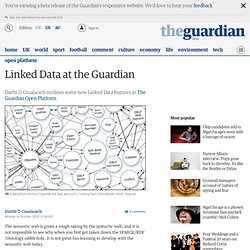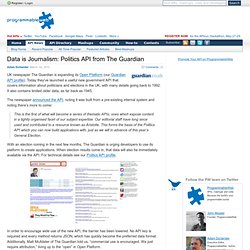 UK newspaper The Guardian is expanding its Open Platform (our Guardian API profile). Today they've launched a useful new government API that covers information about politicians and elections in the UK, with many details going back to 1992. It also contains limited older data, as far back as 1945. The newspaper announced the API, noting it was built from a pre-existing internal system and noting there's more to come:
Data is Journalism: Politics API from The Guardian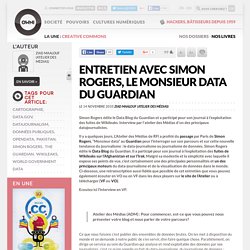 Simon Rogers édite le Data Blog du Guardian et a participé pour son journal à l'exploitation des fuites de Wikileaks. Interview par l'atelier des Médias d'un des principaux datajournalistes. Il y a quelques jours, L'Atelier des Médias de RFI a profité du passage par Paris de Simon Rogers, "Monsieur data" au Guardian pour l'interroger sur son parcours et sur cette nouvelle tendance du journalisme : le data-journalisme ou journalisme de données. Simon Rogers édite le Data Blog du Guardian. Il a participé pour son journal à l'exploitation des fuites de Wikileaks sur l'Afghanistan et sur l'Irak. Malgré sa modestie et la simplicité avec laquelle il expose ses points de vue, c'est certainement une des principales personnalités et un des principaux moteurs du data-journalisme et de la visualisation de données dans le monde.
Simon Rogers