Facebook
Social Loop. iOS. Authentification. Friends using pearltrees. Requests. Insights. Community. Open Graph Submissions Update. As of today, over 90% of the thousands of Open Graph submissions we have received since f8 have been fully reviewed and responded to.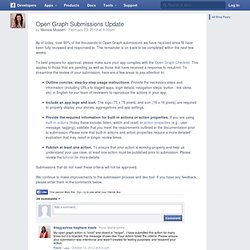 The remainder is on track to be completed within the next few weeks. To best prepare for approval, please make sure your app complies with the Open Graph Checklist. This applies to those that are pending as well as those that have received a response to resubmit. Tools. Bug - video player's image not showing correctly in the Ticker. Platform Showcase. AppData. Growing apps. Draw Something, Rotten Tomatoes, Cities I've Visited, more on this week's top 20 growing Facebook apps by MAU Mobile game Draw Something continued to top our list of applications growing by monthly active users this week.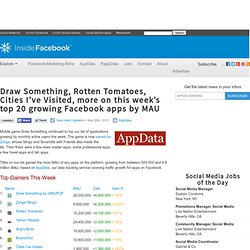 The game is now owned by Zynga, whose Slingo and Scramble with Friends also made the list. Then there were a few news reader apps, some professional apps, a few travel apps and tab apps. Titles on our list gained the most MAU of any apps on the platform, growing from between 500,000 and 6.6 million MAU, based on AppData, our data tracking service covering traffic growth for apps on Facebook. Facebook platform.
---