Ecosystem overview
Player Penetration. Flash Game License. Facebook Application Statistics. FarmVille. Open Screen Project. FarmVille on Nexus One. Advertisements I have been extensively testing the new HTC Sense from HTC Desire ROM on Nexus One and so far has been very impressed with what HTC has to offer with this new version of Sense experience for Android phones.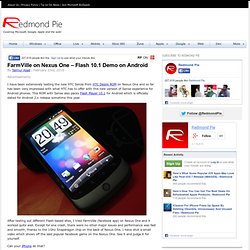 This ROM with Sense also packs Flash Player 10.1 for Android which is officially slated for Android 2.x release sometime this year. After testing out different Flash-based sites, I tried FarmVille (facebook app) on Nexus One and it worked quite well. Except for one crash, there were no other major issues and performance was fast and smooth, thanks to the 1Ghz Snapdragon chip on the back of Nexus One. Youtube. There's been a lot of discussion lately about whether or not the HTML5 our HTML5 player.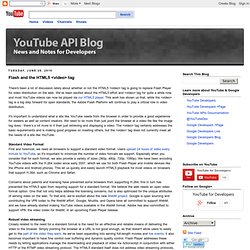 This work has shown us that, while the It's important to understand what a site like YouTube needs from the browser in order to provide a good experience for viewers as well as content creators. We need to do more than just point the browser at a video file like the image tag does - there's a lot more to it than just retrieving and displaying a video.
The <video> tag certainly addresses the basic requirements and is making good progress on meeting others, but the <video> tag does not currently meet all the needs of a site like YouTube: Standard Video Format. Blogs on Flex.
---