Data browsers
Disco Hyperdata Browser. The Disco - Hyperdata Browser is a simple browser for navigating the Semantic Web as an unbound set of data sources.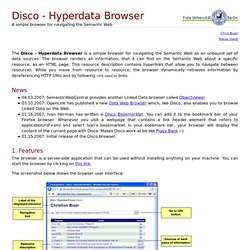 The browser renders all information, that it can find on the Semantic Web about a specific resource, as an HTML page. This resource description contains hyperlinks that allow you to navigate between resources. VisiNav. VisiNav is a system to search and navigate web data, collected from a multitude of sources.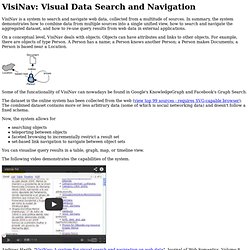 In summary, the system demonstrates how to combine data from multiple sources into a single unified view, how to search and navigate the aggregated dataset, and how to re-use query results from web data in external applications. On a conceptual level, VisiNav deals with objects. Objects can have attributes and links to other objects. SIGMA. By Sindice. Google-refine.
---