Cross domain iFrames
Gadget to Gadget. This document explains how to use the publish-subscribe ("pubsub") framework to pass messages from one gadget to another.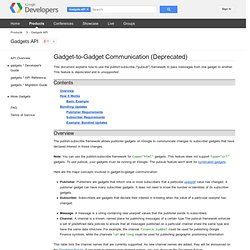 This feature is deprecated and is unsupported. The publish-subscribe framework allows publisher gadgets on iGoogle to communicate changes to subscriber gadgets that have declared interest in those changes. Note: You can use the publish-subscribe framework for type="html" gadgets. YouTube iframe API. Mapplets. IFrames - Cross-Domain Communication. Another Cross Domain iFrame. Recently I created a web page that hosted an iFrame.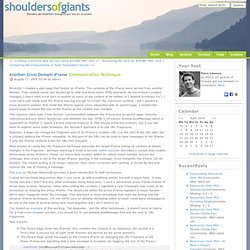 The contents of the iFrame were served from another domain. That content would use JavaScript to hide and show some HTML elements. Cross-Browser Comm Demo via 'Marathon' technique.
---