Config
max_allowed_packet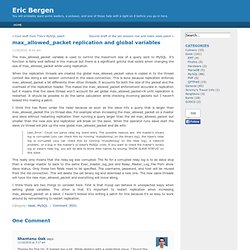 The max_allowed_packet variable is used to control the maximum size of a query sent to MySQL. It's function is fairly well defined in the manual but there is a significant gotcha that exists when changing the size of max_allowed_packet while using replication.
utf8_general_ci vs utf8_unicode_ci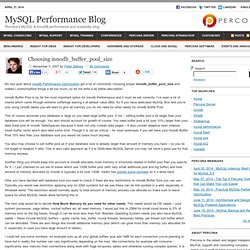 November 3, 2007 By Peter Zaitsev39 Comments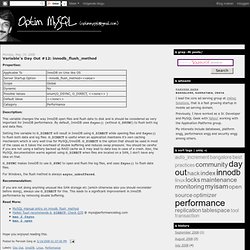 Properties:
innodb_flush_method
O_DIRECT is the option that should be used in most of the cases as it takes the overhead of double buffering and reduces swap pressure. by nicolas Nov 9
System performance benchmark
sort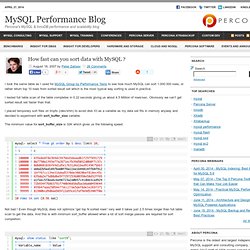 August 18, 2007 By Peter Zaitsev26 Comments I took the same table as I used for MySQL Group by Performance Tests to see how much MySQL can sort 1.000.000 rows, or rather return top 10 rows from sorted result set which is the most typical way sorting is used in practice. I tested full table scan of the table completes in 0.22 seconds giving us about 4.5 Million of rows/sec. Obviously we can't get sorted result set faster than that. I placed temporary sort files on tmpfs (/dev/shm) to avoid disk IO as a variable as my data set fits in memory anyway and decided to experiment with sort_buffer_size variable.
datadir