Communauté Française
Communauté française. Alexandre Passant. Terraces.
Gautier Poupeau. Got. Linked book mashup. Un automne de semweb. Il y a un temps pour tout : la découverte, la réflexion et l'expérimentation sur ce blog, le partage et la dissémination auprès de nouveaux publics au cours d'événements divers et le temps de l'accomplissement de projets mettant en œuvre ces différentes idées.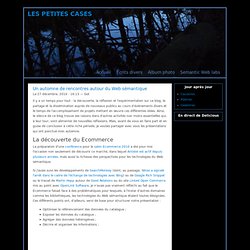 Ainsi, le silence de ce blog trouve ses raisons dans d'autres activités non moins essentielles qui, à leur tour, vont alimenter de nouvelles réflexions. Mais, avant de vous en faire part et en guise de conclusion à cette riche période, je voulais partager avec vous les présentations qui ont ponctué mon automne. La préparation d'une conférence pour le salon Ecommerce 2010 a été pour moi l'occasion non seulement de découvrir ce marché, dans lequel Antidot est actif depuis plusieurs années, mais aussi la richesse des perspectives pour les technologies du Web sémantique.
David Larlet. Bibliothèques [reloaded] SemWeb. Johann Romefort. Yves Raimond. Moustaki. BBC Builder. In our latest profile of BBC developer talent, we talk to Yves Raimond of the programmes and on-demand department.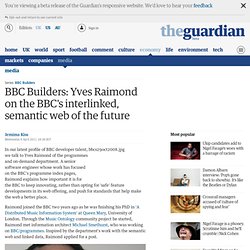 A senior software engineer whose work has focused on the BBC's programme index pages, Raimond explains how important it is for the BBC to keep innovating, rather than opting for 'safe' feature developments in its web offering, and push for standards that help make the web a better place. Raimond joined the BBC two years ago as he was finishing his PhD in 'A Distributed Music Information System' at Queen Mary, University of London. Through the Music Ontology community project he started, Raimond met information architect Michael Smethurst, who was working on BBC/programmes. Inspired by the department's work with the semantic web and linked data, Raimond applied for a post.
Bsadacheng. Web sémantique & formats standards. SPARQL. Semantic Web. SemWeb.Pro. Hypios.
---