2.0 services
Our global teams of analysts, researchers and editors are experts in the Retail Banking and Payments sectors providing timely data, analysis and insight that helps our clients make quicker and better decisions. More We are a leading provider of intelligence for the global construction industry supplying project, industry, market and company intelligence. More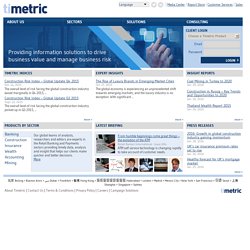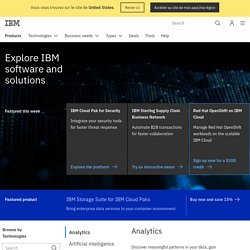 Try out the newest version of IBM Many Eyes! New site design and layout Find visualization by category and industry New visualization expertise and thought leadership section
GeoIQ's enterprise analytics, enhanced visualization and data support features are now available for free to all GeoCommons users. Easily find answers to complex questions and share them with the world. With increased speed, greater usability, bigger data visualization, and cross browser support, you can now animate and visualize massive amounts of data in seconds - from IE to iPad. GeoCommons enables everyone to find, use and share geographic data and maps. Easily create rich interactive visualizations to solve problems without any experience using traditional mapping tools.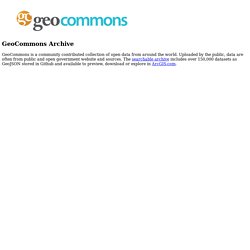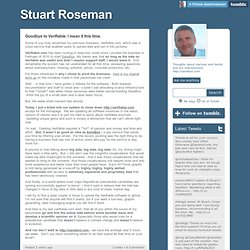 Goodbye to Verifiable. I mean it this time. Some of you may remember my previous business, Verifiable.com, which was a cloud service that enabled users to upload data and turn it into pictures. Verifiable.com has been running in read-only mode since I pivoted the business in February of 2010 to start SaneBox. My theory was that so long as the data on Verifable was useful and didn't require support staff, I would leave it. And remarkably the system has run unattended for all this time; answering questions about unemployment, housing, pollution, prices, concrete production, etc…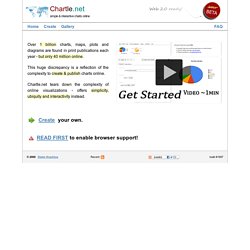 Over 1 billion charts, maps, plots and diagrams are found in print publications each year - but only 40 million online. This huge discrepancy is a reflection of the complexity to create & publish charts online. Chartle.net tears down the complexity of online visualizations - offers simplicity, ubiquity and interactivity instead. upcoming features : impressive new Ajax/Flash user interface and improved data import from Excel.
The easy way to track and graph information. Track-n-Graph is a FREE web-based service for friends, family, and co-workers to track and graph information. Click here to start tracking and graphing! Track Information TNG Tracker Catalog™