Montage financier R et D
Lawrence Livermore National Laboratory (LLNL)
Dans la continuité des actions menées antérieurement, le programme spécifique «Capacités» vise principalement la création de nouvelles infrastructures de recherche et d'innovation à travers l'Europe. À cette fin, le programme prévoit une approche stratégique en deux phases : une phase préparatoire et une phase de construction.
Programme spécifique «Capacités»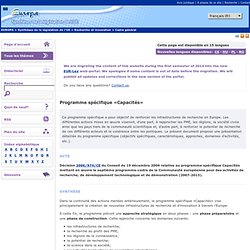 Réseau Entreprise Europe
www.mgt.gatech.edu/directory/faculty/rothaermel/pubs/05AMJ.pdf
PME – Financement de la R&D
Crédit d'impôt recherche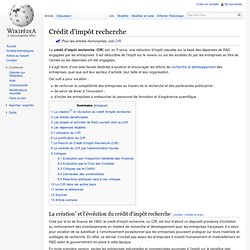 Un article de Wikipédia, l'encyclopédie libre. Le Crédit d'Impôt Recherche (CIR) est, en France, une réduction d'impôt calculée sur la base des dépenses de R&D engagées par les entreprises. Il est déductible de l'impôt sur le revenu ou sur les sociétés dû par les entreprises au titre de l'année où les dépenses ont été engagées.
www.oecd.org/dataoecd/48/40/25718043.pdf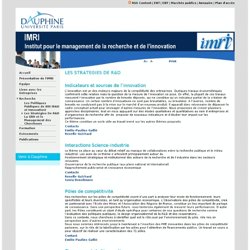 Université Paris Dauphine: Les Stratégies De R&D
L'innovation est un des moteurs majeurs de la compétitivité des entreprises. Quelques travaux économétriques confirment cette relation mais la question de la mesure de l'innovation se pose.
lem.cnrs.fr/Portals/2/actus/DP_200714.pdf
The Framework Programmes for Research and Technological Development, also called Framework Programmes or abbreviated FP1 through FP8, are funding programmes created by the European Union in order to support and encourage research in the European Research Area (ERA).
Framework Programmes for Research and Technological Development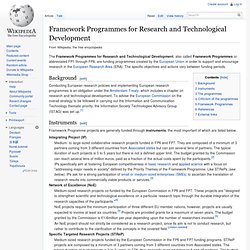 CM-CIC Capital Finance
CapDecisif Management
Merieux developpement - Accueil
BHH%20OxREP02%20R&DFinance