Outils
Home. 16 Awesome Data Visualization Tools. From navigating the Web in entirely new ways to seeing where in the world twitters are coming from, data visualization tools are changing the way we view content.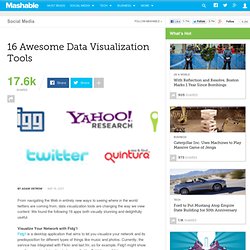 We found the following 16 apps both visually stunning and delightfully useful. Visualize Your Network with Fidg'tFidg't is a desktop application that aims to let you visualize your network and its predisposition for different types of things like music and photos. 99 Mind Mapping Resources, Tools, and Tips. So, there you are staring at that black sheet of paper again.

Or perhaps it's a black Word document on your computer screen. Whichever it may be, it's obvious you're about to take notes for that big essay assignment or group project, and you're not too excited about getting started! That's where a different kind of note taking comes in to play, one that is actually fun to do and will also help you to understand your notes better. It's a technique called mind mapping, and is based around a strong visual method of taking notes. 28 Rich Data Visualization Tools - InsideRIA. ICT4D Wiki » Data Visualization. Some applications may be listed under Network Analysis instead of Data Visualization.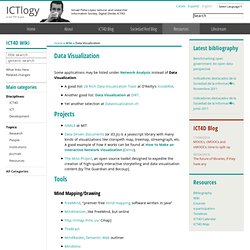 A good list: 28 Rich Data Visualization Tools at O'Reilly's InsideRIA. Another good list: Data Visualization at DiRT. Yet another selection at Datavisualization.ch Projects.
As3xls
AmCharts: flash charts, stock charting software. Online Diagram Software and Flowchart Software - Gliffy. SIMILE Widgets. AmMap: Interactive flash maps.
Our JavaScript Maps is a tool that you can use to easily add interactive map functionality to your web pages and JavaScript-based applications.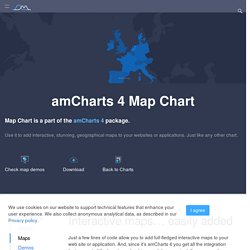 You can use this tool to show locations of your offices, routes of your journeys, create your distributor map, etc. Photos or illustrations can be used as layers and backgrounds of maps, so you can make different presentations, e-learning tools and more. Main features of our tool: Customize every detail of your map – sizes, colors, disable features you don't need;Create multi-level structuresCreate map charts (heatmaps)Load icons or photos on top of your mapUse your own custom map texturesDraw lines and add textSet the start-up zoom level and positionUse it as zoomifyer to display big picturesControl the map with JavaScript (reload data and settings, set and get data and separate parameters, register clicks)
JavaScript InfoVis Toolkit - Interactive Data Visualizations for.
---