Godehard
im Internet lernen und lehren - Der Marktplatz für online Kurse: Wissen kaufen und verkaufen.
Blog Archiv » Die 8 besten (?) Werkzeuge des analogen Lernens und Lehrens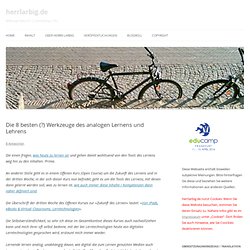 Die einen fragen, was heute zu lernen sei und gehen damit wohltuend von den Tools des Lernens weg hin zu den Inhalten. Prima. An anderer Stelle geht es in einem Offenen Kurs (Open Course) um die Zukunft des Lernens und in der dritten Woche, in der sich dieser Kurs nun befindet, geht es um die Tools des Lernens, mit denen dann gelernt werden soll, was zu lernen ist, wie auch immer diese Inhalte / Kompetenzen dann näher definiert sind .
Wenger_Trayner_DeLaat_Value_creation.pdf (application/pdf-Objekt)
backyardhive.com - BackYardHive.com - Top Bar Hive, Beekeeping DVD
bee-loved.de
Présentation | SPIPOLL
Le Suivi Photographique des Insectes POLLinisateurs a pour but d' obtenir des données quantitatives sur les insectes pollinisateurs et/ou floricoles en France en mesurant les variations de leur diversité et celles de la structure des réseaux de pollinisation, sur l'ensemble de la France métropolitaine. Grâce à un protocole simple et attrayant, reposant sur des photographies d'insectes en train de butiner, le SPIPOLL est ouvert à tous !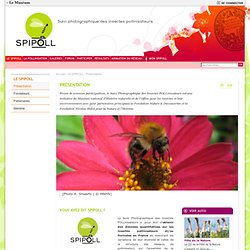 Which school nabbed a top prize at this year's International Contemporary Furniture Fair?
Berhardt And Aruliden Enlist Eighth-Graders To Design Ideal Schoolroom | Co.Design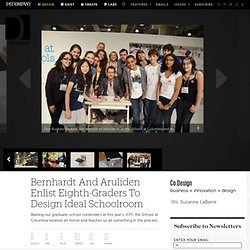 I have been recognised four times now.
How YouTube is popularising science | Science
Sollten Außerirdische je auf der Erde landen, könnte es gut sein, dass sie uns so begrüßen: "Bringt uns zur Ameise!"
Ameisenkolonien: Krabbelndes Superorgan - SPIEGEL ONLINE - Nachrichten - Wissenschaft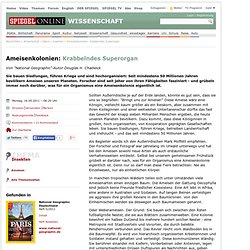 The Model
OpenIDEO - How might we better connect food production and consumption? - Inspiration - Garden in a Sack
Inspiration
Social Innovation
Social innovation seeks to create transformational change in under-served, underrepresented, and disadvantaged communities worldwide. At IDEO, we use design thinking to address issues such as poverty, nutrition, health, water and sanitation, economic empowerment, access to financial services, and gender equity.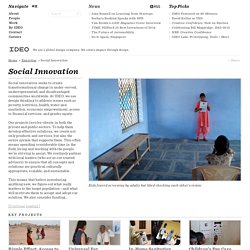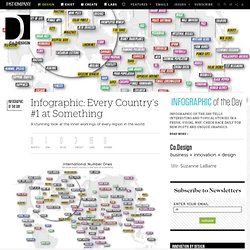 Infographic: Every Country's #1 at Something | Co.Design
David McCandless 's new infographic is a masterpiece that lays out each country's individual claim to a #1 rank . These range from commodities to demographics to ecology to crime--and obviously, most of these things you'd never want to be known for being the "best" in: But collectively, it gives you a pretty phenomenal snapshot of the workings in myriad economies, countries, continents, and regions.
Obama retracing his Irish roots
A mind mapping game for up to six people The Building Schools for the Future (BSF) programme presents a raft of new challenges for many schools, not least the need to engage larger than usual groups in the planning process. The OurNewSchool game is intended to provide help.
Welcome to Our New School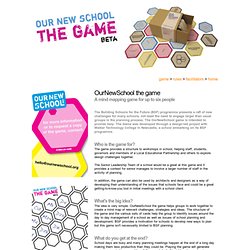 Twitter is the home of UKEdChat, a new forum for teachers to 'meet' weekly to discuss education topics. Photograph: Iain Masterton/Alamy It's Thursday evening and hundreds of teachers are engrossed in a training session.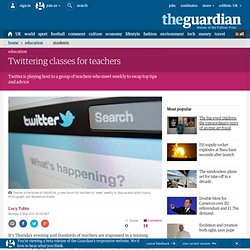 Twittering classes for teachers | Education
Mail - [idw] Vogelbeobachtung in Bonn beim bundesweiten Birdrace 2011 - idw.online.de
Home
DLR_School_Lab - Hinweise für einen Besuch im DLR_School_Lab
Niedersächsisches Institut für frühkindliche Bildung und Entwicklung - Kita & Co
Niedersächsisches Institut für frühkindliche Bildung und Entwicklung - Veranstaltungs-Tipps
Niedersächsisches Institut für frühkindliche Bildung und Entwicklung - SüdOst
"Aktion zusammen wachsen" - Jetzt anmelden
Niedersächsisches Institut für frühkindliche Bildung und Entwicklung - Aktuelles
Niedersächsisches Institut für frühkindliche Bildung und Entwicklung - Das Institut
Niedersächsisches Institut für frühkindliche Bildung und Entwicklung - Veranstaltungs-Tipps
Mustervertrag_IHK_Reutlingen.pdf (application/pdf-Objekt)