Php
Without understanding much about the details of PHP, you can save yourself a great deal of time with the use of the PHP include command. include takes a file name and simply inserts that file's contents into the script that issued the include command. Why is this a cool thing? Well, first of all, this means that you can type up a common header or menu file that you want all your web pages to include.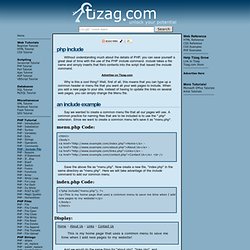 PHP Tutorial - Include File
Articles d'ASP MAGAZINE
Réaliser un nuage de tags en Php MySql | On the Web again Blog d'un Webmaster Webdesigner au quotidien
Should I display the Like button by itself or the Like and Share buttons together? Like lets people post links to Facebook with one click, while Share allows them to add a personal message and customize their target audience before posting. We recommend that you include both buttons on your website to let people choose the way that they want to share your content. How do I display the Share button without the Like button? To get code to display the Share button by itself, please visit our Share button documentation. How do I optimize my website for sharing using the Like button?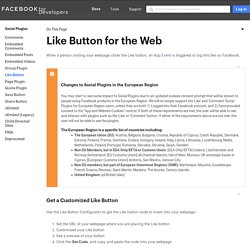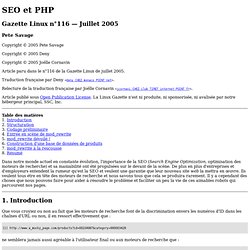 SEO et PHP
Gazette Linux n°116 — Juillet 2005 Pete Savage Copyright © 2005 Pete Savage Copyright © 2005 Deny Copyright © 2005 Joëlle Cornavin Dans notre monde actuel en constante évolution, l'importance de la SEO (Search Engine Optimization, optimisation des moteurs de recherche) et sa maniabilité ont été propulsées sur le devant de la scène.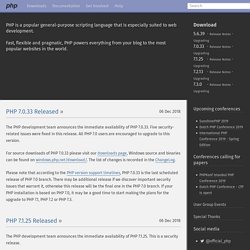 We are continuing to work through the repercussions of the php.net malware issue described in a news post earlier today. As part of this, the php.net systems team have audited every server operated by php.net, and have found that two servers were compromised: the server which hosted the www.php.net, static.php.net and git.php.net domains, and was previously suspected based on the JavaScript malware, and the server hosting bugs.php.net. The method by which these servers were compromised is unknown at this time. All affected services have been migrated off those servers. We have verified that our Git repository was not compromised, and it remains in read only mode as services are brought back up in full. As it's possible that the attackers may have accessed the private key of the php.net SSL certificate, we have revoked it immediately.