Php
Without understanding much about the details of PHP, you can save yourself a great deal of time with the use of the PHP include command. include takes a file name and simply inserts that file's contents into the script that issued the include command. Why is this a cool thing? Well, first of all, this means that you can type up a common header or menu file that you want all your web pages to include.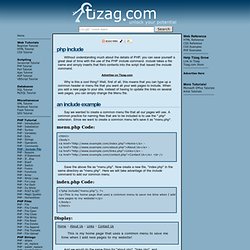 PHP Tutorial - Include File
Articles d'ASP MAGAZINE
Annuaire de Scripts PHP, ASP et PERL
Réaliser un nuage de tags en Php MySql | On the Web again Blog d'un Webmaster Webdesigner au quotidien
The Like button is a simple plugin that will let people quickly share content with their friends on Facebook. When someone clicks on a Like button on a site, a connection is created in the Graph between the content and that person: an Open Graph Like action will be published, and stories will appear on that person's timeline and their friends' news feeds. This story will link back to the site and drive distribution of content. The story created by the Like action can be enriched by using meta tags to turn a simple HTML page into an Open Graph object .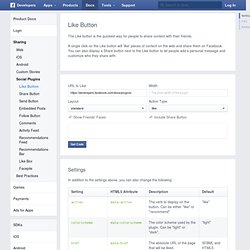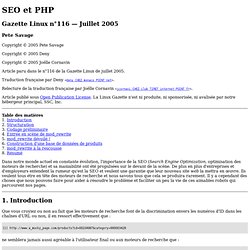 SEO et PHP
Gazette Linux n°116 — Juillet 2005 Pete Savage Copyright © 2005 Pete Savage Copyright © 2005 Deny Copyright © 2005 Joëlle Cornavin Dans notre monde actuel en constante évolution, l'importance de la SEO ( Search Engine Optimization , optimisation des moteurs de recherche) et sa maniabilité ont été propulsées sur le devant de la scène.