Babys and Kids
Baby Outfits, Booties and Caps. Beanie Cap= baby cap, beanie, baby pattern, infant cap. Beanie Crocheted exchange to knit This Hat can be made with the following: "DAWN" or "CLOVER LEAF" NYLON or "DAWN" BABY YARN or "DAWN" POMPADOUR 1 oz.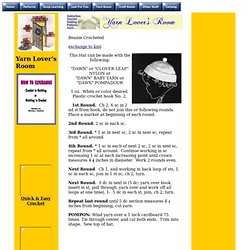 White or color desired. Plastic crochet hook No. 2. 1st Round. Ch 2, 6 sc in 2 nd st from hook, do not join this or following rounds. Cheri Hat pattern by Jennie Harrell. From designer: This is a simple hat I made up as I went along.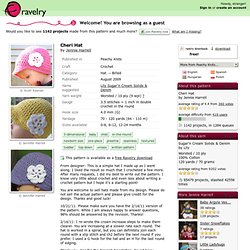 I liked the result so much that I crocheted a few more. After many requests, I did my best to write out the pattern. I know very little about crochet and even less about writing a crochet pattern but I hope it's a starting point! BABY BEANIE Crochet Pattern. BABY BEANIE Crochet Pattern Crochet pattern courtesy of Crochet 'N' More Click below to learn more about CNM: Copyright Tisa Enterprises, All Rights Reserved To print a new copy visit: The following pattern is my original design.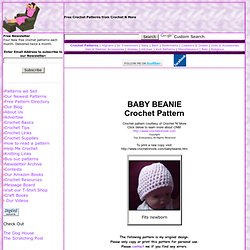 Please only copy or print this pattern for personal use. Free Pattern: Kid's Crown. I made this crown for my #1's birthday.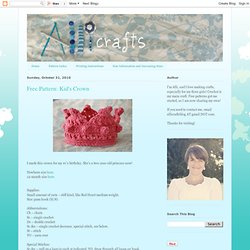 She's a two-year-old princess now! Newborn size here. 12-month size here. Baby Newsboy Hat. Little Fire Crochet Soaker & Skirty Pattern. ((***Pattern updated 01/09/09***))Named for my DS, this is the (I have had a few people mention that they were having trouble getting the waistbands of the Little Fire wooly patterns loose enough to have enough stretch, even when using a larger hook for the foundation.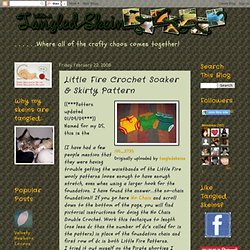 I have found the answer...the no-chain foundation!! If you go here No Chain and scroll down to the bottom of the page, you will find pictorial instructions for doing the No Chain Double Crochet. Work this technique to length (one less dc than the number of dc's called for in the pattern) in place of the foundation chain and first row of dc in both Little Fire Patterns. I tried it out myself on the Pirate shorties I made for my son (incorporating a little stranding for a bit of fun) and it worked out fabulously.
Elfin Baby Booties « DIY Maven. If you have an hour to spare, you can still whip up a pair of these booties before Christmas!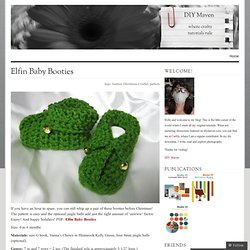 The pattern is easy and the optional jingle balls add just the right amount of 'aawww' factor. Enjoy! And happy holidays! PDF: Elfin Baby Booties. Size: 0 to 6 months.
---