Video making
Grading Plugins for Video Editing. Magisto - Magical video editing. In a click! Singular Software - PluralEyes. We are happy to announce that Red Giant has acquired the product portfolio and intellectual property of Singular Software as of July 9, 2012.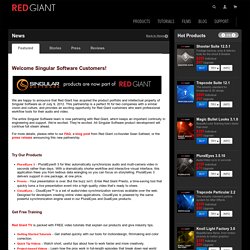 This partnership is a perfect fit for two companies with a similar vision and culture, and provides an exciting opportunity for Red Giant customers who want professional workflow tools for their audio and video. The entire Singular Software team is now partnering with Red Giant, which keeps an important continuity in engineering and support. We're excited. They're excited. All Singular Software product development will continue full steam ahead.
Corsi
Contatti diretti. An Introduction to Color Correction on Vimeo Video School. Dolly + Sliders. Singular Software - DualEyes. FREE: HDDSLR Filmmaking with Gale Tattersall.
---