Facebook and Drupal
Howto: Integrate Facebook Open Graph With Wordpress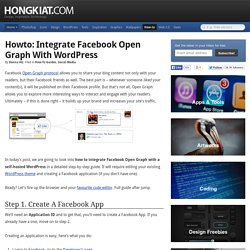 Facebook Open Graph protocol allows you to share your blog content not only with your readers, but their Facebook friends as well. The best part is – whenever someone liked your content(s), it will be published on their Facebook profile.
Getting Started - Sviluppatori di Facebook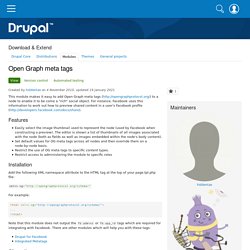 Open Graph meta tags
This module makes it easy to add Open Graph meta tags ( http://opengraphprotocol.org/ ) to a node to enable it to be come a "rich" social object.
This set of modules turns Drupal into a platform for developing Facebook Applications . This allows you to embed your content and features within facebook, or allow facebook users onto your site via Facebook Connect . With Drupal for Facebook , you can harness all the power of Drupal in you Facebook App. If you already have content in Drupal, you can expose it on Facebook . The Drupal for Facebook philosophy is that the functionality already built into Drupal should be used to create Facebook Applications. Where possible, we use Drupal's user management, permission schemes, blocks, views, etc. to implement the Facebook App.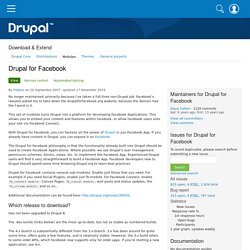 for Facebook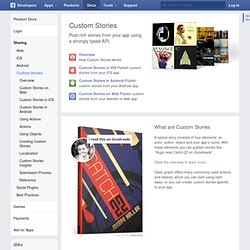 Publishing With an App Token If your app publishes on behalf of its users and requires an access token with no expiration time for the purpose of publishing, you should use an App Access Token.
for Facebook (fb)
Sviluppatori
Open graph and I Like
Support Open Graph Protocol meta tags
Open Graph Protocol is described here: http://developers.facebook.com/docs/opengraph It is a Facebook initiative and used by at least Facebook (but not limited to them).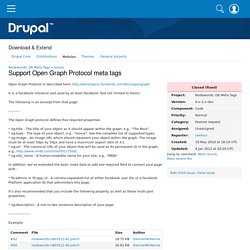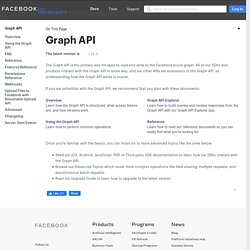 Getting Started If you're new to the Graph API you should start with the Graph API Getting Started Guide . The Graph API is the primary way that data is retrieved or posted to Facebook. The Getting Started Guide contains an overview of the basics of the API, walks you through using the Graph API Explorer , shows you how names work, how permissions work, what connections are and puts it all together so the rest of this reference make sense. Reading Data Pictures
Drupal 7 for Facebook |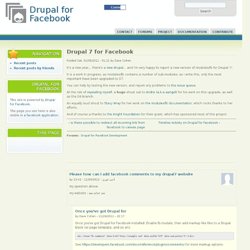 It's a new year... there's a new drupal ... and I'm very happy to report a new version of modules/fb for Drupal 7! It is a work in progress, as modules/fb contains a number of sub-modules; as I write this, only the most important have been upgraded to D7.