Facebook and Drupal
Howto: Integrate Facebook Open Graph With Wordpress. Facebook Open Graph protocol allows you to share your blog content not only with your readers, but their Facebook friends as well.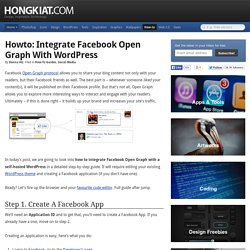 The best part is – whenever someone liked your content(s), it will be published on their Facebook profile. But that's not all, Open Graph allows you to explore more interesting ways to interact and engage with your readers. Ultimately – if this is done right – it builds up your brand and increases your site's traffic. In today's post, we are going to look into how to integrate Facebook Open Graph with a self-hosted WordPress in a detailed step-by-step guide. It will require editing your existing WordPress theme and creating a Facebook application (if you don't have one). Getting Started - Sviluppatori di Facebook. Open Graph meta tags. This module makes it easy to add Open Graph meta tags ( to a node to enable it to be come a "rich" social object.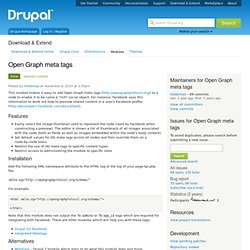 For instance, Facebook uses this information to work out how to preview shared content in a user's Facebook profile ( Features. For Facebook. This set of modules turns Drupal into a platform for developing Facebook Applications.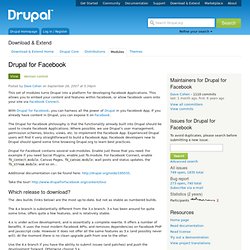 This allows you to embed your content and features within facebook, or allow facebook users onto your site via Facebook Connect. With Drupal for Facebook, you can harness all the power of Drupal in you Facebook App. If you already have content in Drupal, you can expose it on Facebook. The Drupal for Facebook philosophy is that the functionality already built into Drupal should be used to create Facebook Applications. Open Graph protocol - Sviluppatori di Facebook. For Facebook (fb) Sviluppatori. Open graph and I Like. Support Open Graph Protocol meta tags.
Open Graph Protocol is described here: It is a Facebook initiative and used by at least Facebook (but not limited to them).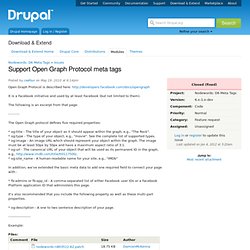 The following is an excerpt from that page: The Open Graph protocol defines five required properties: * og:title - The title of your object as it should appear within the graph, e.g., "The Rock". * og:type - The type of your object, e.g., "movie". See the complete list of supported types. * og:image - An image URL which should represent your object within the graph. Graph API - Sviluppatori di Facebook.
---