Global
Home
Solar News | Latest Solar Power and Renewable Energy News
Solar Power News, Analysis and Renewable Energy Information
Global Solar Technology
PV-Tech
Solar Energy News & Information | Renewable Energy World
InterPV.net - Global PhotoVoltaic Business Magazine
Innovation excels by promotion. Through providing a platform for context-driven comparison of solar components, systems and services, SolarServer provides Solar Industry stakeholders with more sophisticated and rich content related advertising opportunities. The new online platform "Solar Innovations – 2014" not only allows for communicating the benefits of efficient customer-focused solar technologies, but also for businesslike presentations of complex solutions. More
Startpage | Solar Server - phototovoltaics, solar heating, solar power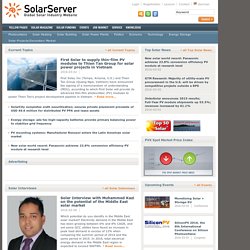 Solar - A PV Management Magazine
Photovoltaics | PV Insider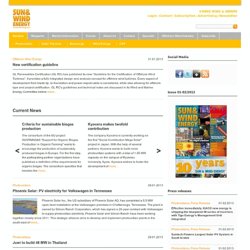 Weltec Biopower says it is beginning in September with the construction of a 2.4 MW biogas plant in Darżyno, Poland. The operator NEWD will ferment not only maize and slurry from the neighbouring agricultural industry, but also potato waste from a chips manufacturer. Starting in summer 2013, the substrates will be deposited in four approximately 4,400 m³ large stainless steel fermenters, with the help of four storage tanks and a more...
Sun & Wind Energy
Delivering today's global solar technology news, today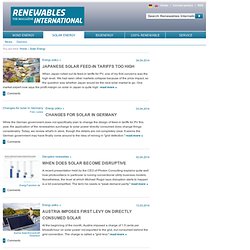 Japanese solar feed-in tariffs too high When Japan rolled out its feed-in tariffs for PV, one of my first concerns was the high level. We had seen other markets collapse because of the price impact, so the question was whether Japan would be the next solar market to go. One market expert now says the profit margin on solar in Japan is quite high. read more »
Solar Energy
Solar News & Articles
World of Photovoltaics - Solar Energy Daily News, Events, Companies, Products, Jobs and more
PHOTON International The Photovoltaic Magazine - HOME -
Energy & Green Tech News - Energy Sciences News, Green Tech, Energy, Energy Science
Solar Energy News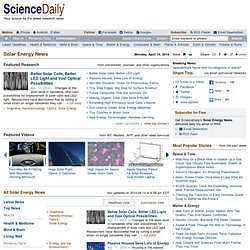 Ford May Be SYNCing With BlackBerry, Ditching Microsoft TheStreet (Feb. 24, 2014) — Shares of BlackBerry are rising on Monday on reports that Ford is turning to the beleagured tech company to power its Sync voice-activated system. A partnership would be a significant achievement for BlackBerry, which has been struggling for years. In effect, Ford will be ditching Microsoft, whose voice-activated software has been the basis of Ford's Sync system since it was introduced in 2007. BlackBerry's QNX Software Systems is already featured in Audi and BMW vehicles, but would significantly expand its presence, as Ford has built more than 10 million vehicles worldwide that are equipped with Sync software.
Photovoltaic Magazines
Solar Energy