Elbilar / laddhybrider
Elbilar
V60 plug-in hybrid Service 2.0: En service för dig. Och din Volvo. Se Volvo Service 2.0-filmen på Youtube! Klicka här!
V60 Plug-in Hybrid - www.volvocars.se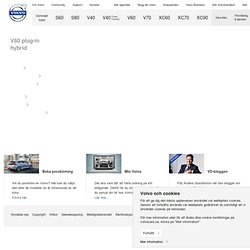 Nya Opel Ampera för med sig ett nytt koncept med ren körning som skonar miljön. Utan de vanliga begränsningarna med batterier ger den livfull elektrisk prestanda och har en räckvidd på mer än 500 km 1 . Beräknat värde är baserade på officiella uppgifter enligt EU-förordningen 715/2007.
Nya Opel Ampera: elbilen med utökad räckvidd för alla vardagens behov – Opel Sverige
Upptäck
Cher client, Votre navigateur ne vous permet plus de profiter de l'ensemble des services du site www.citroen.fr Afin de vous assurer une navigation agréable, conviviale et plus rapide sur le site, nous vous invitons à procéder à une mise à jour de votre logiciel de navigation. Pour cela, nous avons sélectionné pour vous les 3 logiciels suivants, que vous pouvez télécharger en toute sécurité à partir des liens ci-dessous: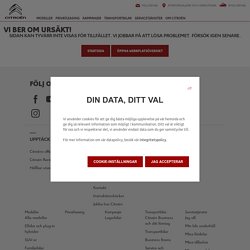 Miljö | Mitsubishi Motors Sweden
Sverige: bilar, transportfordon, tjänster och finansiering
Volvo V60 Plug-In Hybrid - www.volvocars.se
2012 Ford Focus Electric Vehicle (EV) | Gas-Free, Battery-Powered Electric Car
Learn / minimalism / minie-m
Battery storage capacity increase and cell chemistry changes enable improved range DETROIT – The all-electric vehicle range of the 2013 Chevrolet Volt will be 38 miles on a single charge, providing owners with a three-mile EV range increase from the 2012 model. The miles per gallon equivalent (MPGe) will increase from 94 miles to 98 miles and the total range, including extended range operation, will be 380 miles. Based on real-world experience by Volt owners since the vehicle launched in late 2010, engineers made minor changes to the material composition of the battery cell chemistry, resulting in improved performance and durability. Manganese spinel chemistry remains the foundation for the Volt's battery system, but the amount of each material has been slightly modified to provide better life performance.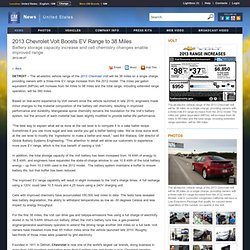 2013 Chevrolet Volt Boosts EV Range to 38 Miles
2013 Honda Fit EV Overview - Official Site
BMW i. Born Electric.