Facebook
Facebook pour les entreprises
How To Rank #1 In Facebook Search In 60 Seconds For Any Term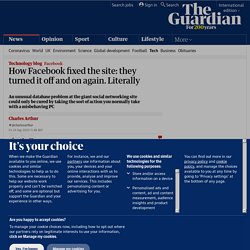 I found it, Mr Zuckerberg! Photo by Sir Mildred Pierce on Flickr. Some rights reserved
How Facebook fixed the site: they turned it off and on again. Literally | Technology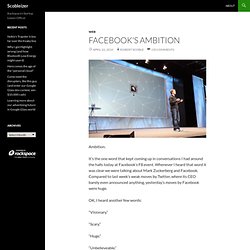 Ambition. It's the one word that kept coming up in conversations I had around the halls today at Facebook's F8 event. Whenever I heard that word it was clear we were talking about Mark Zuckerberg and Facebook. Compared to last week's weak moves by Twitter, where its CEO barely even announced anything, yesterday's moves by Facebook were huge.
Facebook's ambition
Facebook becomes the Internet's Social Glue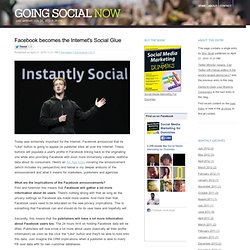 Today was extremely important for the Internet. Facebook announced that its "Like" button is going to appear on publisher sites all over the Internet. These buttons will populate a user's profile in Facebook linking back to the originating site while also providing Facebook with even more immensely valuable, realtime data about its consumers. Here's an Ad Age story covering the announcement (which includes my perspective) and below is my deeper analysis of the announcement and what it means for marketers, publishers and agencies What are the implications of the Facebook announcements?
FACEBOOK BOMBSHELL – How DID EVERYONE miss this! #facebook #f8 |
At 24.17 minutes into the presentation. I let out a "You've GOT to be F#$#$#$#$ kidding me" So I rewound it.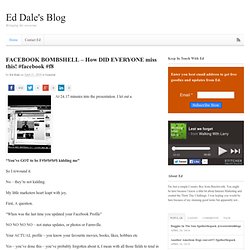 Collectif Empire
Facebook Warns of New E-mail Scam [ALERT]
Imagine visiting a website and finding that it already knows who you are, where you live, how old you are and who your Facebook friends are, without your ever having given it permission to access that information. If you're logged in to Facebook and visit some as yet unnamed "pre-approved" sites around the web, those sites may soon have default access to data about your Facebook account and friends, the company announced today . Barry Schnitt, Senior Manager, Corporate Communications and Public Policy at Facebook, told us in an email that "the right way to think about this is not like a new experience but as making the [Facebook] Connect experience even better and more seamless." There will be new user controls made available, but this is a new experience: this makes Facebook Connect opt-out instead of opt-in.
Facebook May Share User Data With External Sites Automatically