Change Management
Elite Forecasters Help Powderhounds Chase Snow | Playbook. For most people, weather forecasts are in the background.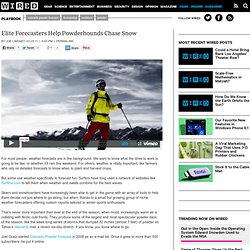 We want to know what the drive to work is going to be like, or whether it'll rain this weekend. For others, weather is vitally important, like farmers who rely on detailed forecasts to know when to plant and harvest crops, But some use weather specifically to forecast fun. Surfers have long used a network of websites like Surfline.com to tell them when weather and swells combine for the best waves. Five Questions That Should Shape Any Change Program - Scott Keller and Colin Price.
By Scott Keller and Colin Price | 11:48 AM December 2, 2011 Most organizations will shrink or disappear in the long term: only a third of excellent companies remain excellent for decades, and when organizations try to transform themselves, even fewer succeed.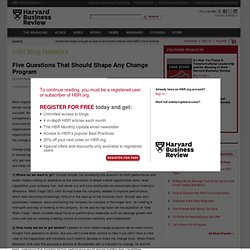 But as economic, political, social, and technological change continue to accelerate, and competitive pressure grows more intense, leaders can't afford those odds. The likeliest way to overcome them, we found as we wrote Beyond Performance, is to address the underlying problem: organizations that focus too much on short-term financial performance, at the expense of organizational health, are those that most typically need transformational change; but, unfortunately, the change programs they create are similarly shortsighted. Change programs that succeed, we've seen, put an equal emphasis on both performance and health in answering five basic questions that should shape any change program.
The Ambidextrous CEO - Jason Sylva - HBR Events. By Jason Sylva | 1:09 PM November 23, 2011 Leaders often find themselves struggling when making decisions about supporting the core business while also funding and nurturing the innovative projects on which the long-term future of the business depends.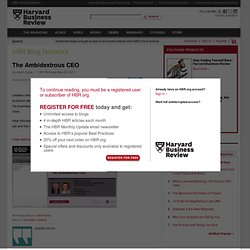 The battles over investment and talent often pit unit leaders against each other. Hear Michael Tushman and Andrew Binn describe a framework for creating a balance between the old and the new that allows the organization to make the most of creative tension. View webinar: A conversation with Michael Tushman and Andrew Binn.
---