Art techniques
AD Logo Mosaic - PLACE & PLAY. Joan Miró. Still Life with Old Shoe. Acquavella Galleries - Fernand Léger. Artist Biography Fernand Léger EARLY INFLUENCES Fernand Léger was born into a peasant family in Normandy, apprenticed to an architect, and then went to Paris in 1900 to study painting.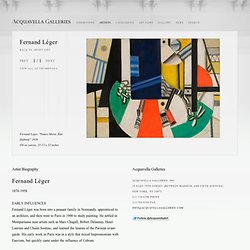 He settled in Montparnasse near artists such as Marc Chagall, Robert Delaunay, Henri Laurens and Chaim Soutine, and learned the lessons of the Parisian avant-garde. 100 Patterns. Buy VRay 2.0 for SketchUp Mac Edition - Now with SketchUp 2014 Support. V-Ray 2.0 for SketchUp V-Ray 2.0 for SketchUp Service Pack 1 is now available for download.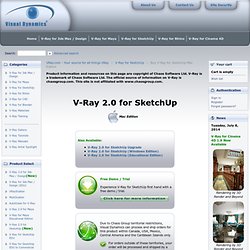 A few new features have been added and improvements have been made to many current ones. Also, V-Ray 2.0 for SketchUp now supports SketchUp 2014. Photoshop & Maxon Cinema 4D tutorial: Learn the best ways to create 3D type. Smith Micro Academic Store, Educational Discounts on Smith Micro. Free High Resolution Textures - gallery. Photoshop & Maxon Cinema 4D tutorial: Learn the best ways to create 3D type. Photoshop tutorial: Create a deep-sea feel using blending modes.
Photoshop tutorial: Advanced compositing techniques. Adobe Illustrator tutorial: Create a retro-style comic. Adobe Illustrator tutorial: How to make objects look 3D in Illustrator. If It's Hip, It's Here: 25 Body Art Illusions Done With Acrylic Paint By Hiraku Cho. ShareThis An illustrator and graphic designer by trade, Tokyo-born artist 趙 燁(ちょう ひかる) Hiraku Cho, plays with applying acrylic paint directly on the skin, giving the illusion of human forms invaded by technology, fruit and even other humans.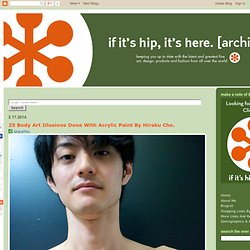 Admitted to Musashino Art University, Department of Visual Communication Design in 2012, these images reflect the theme of Unusual Art, in which she was assigned to design images with body paint depicting the following subjects: clothing, eyes, realistic body parts, illustration, three-dimensions, and video. Videos: Hiraku at work: Self-Taught Artist Layers Glass Sheets Together To Form Ocean Waves.
Sydney-based artist Ben Young creates astonishing glass sculptures that look just like ocean waves.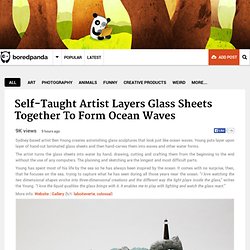 Young puts layer upon layer of hand-cut laminated glass sheets and then hand-carves them into waves and other water forms. The artist turns the glass sheets into water by hand, drawing, cutting and crafting them from the beginning to the end without the use of any computers. The planning and sketching are the longest and most difficult parts. Young has spent most of his life by the sea so he has always been inspired by the ocean. These Custom Laser-Engraved Rolling Pins Will Stamp Your Dough With Cool Patterns. Polish designer Zuzia Kozerska has used modern technology to update a traditional household tool in a fun way by using a laser engraver to engrave fun stamp designs onto rolling pins that can then create stamped sheets of cookie dough.
The rollings pins feature a collection of small, repeating prints, most of which involve geometric patterns or animals. However, she also offers custom-made engrave pins with the customer's design engraved onto them. Kozerska, who lives outside of Warsaw and uses local wood, writes, "Those rolling pins also work with cakes, pasta, sugar frosting to cover the cake and even dumplings! Even clay if you're not hungry!"
Source: Etsy (h/t: laughingsquid, thisiscolossal) SAVEVIDEO.ME: download dailymotion video, download vimeo, facebook and more! The San Francisco Globe. 1.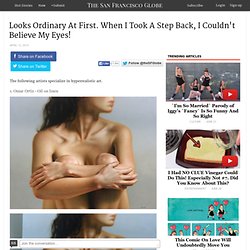 Omar Ortiz - Oil on linen 2. Paul Cadden - Pencil on paper 3. Montage 2013. My personal take on the 12 basic animation principles, applied to a simple shape: the cube.
Check also the animated gif gallery here the12principles.tumblr.com/.Animation, Cartooning, Directing2014 Three short stories that take place during the sunset. Tragically, it's going to be the very last sunset experience for all of the main characters involved.Animation, Directing, Film2013 Playatta's mission is to bring pure, simple FUN to any event. I tried to bring the same kind of things to this animation. The illusion of life. Three short stories that take place during the sunset.
Tragically, it's going to be the very last sunset experience for all of the main characters involved.Animation, Directing, Film2013 Playatta's mission is to bring pure, simple FUN to any event. I tried to bring the same kind of things to this animation. Alive Without Breath: Three Dimensional Animals Painted in Layers of Resin by Keng Lye. Singapore-based artist Keng Lye creates near life-like sculptures of animals relying on little but paint, resin and a phenomenal sense of perspective.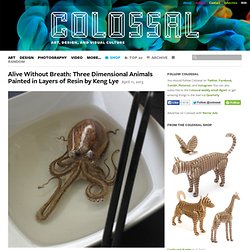 Lye slowly fills bowls, buckets, and boxes with alternating layers of acrylic paint and resin, creating aquatic animal life that looks so real it could almost pass for a photograph. The artist is using a technique very similar to Japanese painter Riusuke Fukahori who was featured on this blog a little over a year ago, though Lye seems to take things a step further by making his paint creations protrude from the surface, adding another level of dimension to a remarkable medium. See much more of this series titled Alive Without Breath over on deviantART. Cubist/Geometric/Op Art/Hard Edged Abstraction on Pinterest. DIY Photo Clipboards. Store: Glue Chip Kit. This kit has enough hide glue to chip up to 10 square feet of glass, dessicant to dry out the glue and cause it to chip, 3 pre-cut patterns with glue chipped areas already designed in, an extra large squeegee, a bullseye level to level the glass before applying the glue, 2 glue brushes and complete instructions.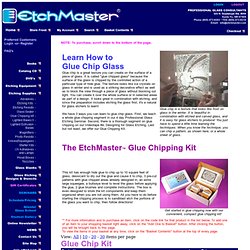 The box is even designed to store the kit components and keep them organized when you are not using them. All you have to do before starting the chipping process is to sandblast etch the portions of the glass you want to chip, then follow directions! Face Style and Concept, How to design different facial types SAMPLE. How to draw face woman Emma Frost X-men. Vandal High. The 40 best Photoshop plugins | Photoshop. Photoshop is an amazing tool - capable of producing sublime images, high-quality video and even create very passable 3D renders. All this power offers a world of possibilities - but occasionally it's worth adding a few optional extras to get the most out of your investment. In this article we've lined up some of the best Photoshop plugins available for Adobe's photo editing giant today.
You'll find all our Photoshop articles here 01. Download Vector Seamless Floral Background Pattern free Vector floral. Author: Abstract, Antique, Art, Artistic, Background, Baroque, Beauty, Black, Bloom, Branch, Clip-art, Clipart, Colorful, Cool, CorelDRAW, Creative, Curl, Curtains, Damask, Dark, Decor, Decoration, Decorative, Design, Drapery, Drawing, Elegance, Elements, Fabric, Floral, Flourishes, Flower, Foliage, Free, Graphic, Gray, Grunge, Grungy, Illustration, Illustrator, Image, Leaf, Modern, Natural, Nature, Old, Ornamental, Pattern, Plant, Renaissance, Revival, Rococo, Romantic, Scroll, Seamless, Set, Style, Stylish, Swill, Swirl, Textile, Texture, Twirl, Vector, Vector Graphic, Vintage, Wallpaper.
DKNG on Skillshare: Textures and Halftones for Screen Printing. DKNG on Skillshare: Textures and Halftones for Screen Printing November 15th, 2013 // Posted by Dan in Blog, DKNG News, Events We're pleased to announce our second online class on skillshare.com! This class is for designers who want to bring their artwork to life in the form of a screen printed poster. Create press-ready artwork for screen printing. Three important rules for painting. Three important rules for Painting and digital painting. These rules apply to beginners and novice alike, they are simple but if you apply them correctly your painting, concept, and illustration will be awesome. Digital and traditional painting contain similar rules, the only different is basically the tools and the application.
Digital painting is probably 100 times easier than real oil paint for so many reason (just undo or saving as many versions as you want in digital is enough, in traditional you can go back there is no redo…so it's difficult, very difficult.) Soulmania: Do you have any good tips for how to go about painting in Photoshop? Xia: Try to keep everything simple to begin with and focus on these three rules 1) Shapes (Composition, silhouette and/or correct drawing). How to paint portrait, digital painting tutorial. LEVEL: Intermediate * Required that you have watched Face Constructed I first. This tutorial will explain how to paint portraits or faces in variety of point of view and styles. You will also learn how to manipulate shape and form within the value ranges to change it into any unique set of facial features.
Learn how to arrange skintones and balance color temporatures. Using cool and warm color as an effective tool to balance the portrait illustration. In this FEATURE TUTORIAL, you will learn to digitally paint female head (face) from three different face samples and be able to paint facial structures using eithercolor, values and shape to achieve the final result.I have spend years, as a concept artist, developing fast and efficient way to create facial feature for various character designs. How Randall Rosenthal Turned Some Wood Into A Box Full Of Cash. Creative Dad Colors In His Kids' Drawings, Makes Surprisingly Awesome Art. How I made $5000 selling my art/photography how to online. Friend Article - Coloring Page. Photoshop Tutorials. (98) contemporary art. Amazing Floating Paper Cube Illusion. Creating geometric patterns in Illustrator. Creating patterns in Illustrator CS6.
CartonConcepts - Contact. T-shirt Designers. 14 Days Designers. - T-Bar. The Collapse of Cohesion on Behance. Featured Artists: ELBOW-TOE. Art Consultant/ art agent? What starts out as a triumph pinback button. BUGA-UP. Rilla Alexander: Without the Doing, Dreaming Is Useless. NGV  > What's On > Exhibitions > Exhibitions > DUH-HEAD! The making of John Mayer's "Born and Raised" artwork. Sculpting the hand by Philippe Faraut. VIDEO - How to Draw the Head from Any Angle Part 1. How to draw the human head from any angle. Coolest invention. Big Giant stop motion. Abstracta. Stainless steel mesh background. Laser Cutting for Designers, Illustrators and Creative people - Online Laser Cutting. Art Collection. Supporter In A Red Supporters Outfit :: Openside. Arduino – Computer Boards & Starter Kits - RS Components UK. FlipBooKit: A New DIY Mechanical Flipbook Kit. The Bizarre, Flexible Paper Sculptures of Li Hongbo.
How to Line Draw. James Harvey (artist) Art Student Owl. Arts Law : Copyright. Comics and Ideas by Cartoonist and Illustrator, Grant Snider. Block Posters - Create large wall posters from any image for free! Fantastic Sidewalk Art (The Chalk Guys) Crazy Water/Glass Drawing 3D Illusion. How to Draw a "Realistic" Manga Face, Line by Line.
How to Draw a Water Drop. Art Studio lesson 5 (excerpt)
---