Anime
Hetalia: Axis Powers ( Axis Powers ヘタリア , Akushisu Pawāzu Hetaria ? ) is a Japanese webcomic , later adapted as a manga and an anime series, by Hidekaz Himaruya ( 日丸屋秀和 , Himaruya Hidekazu ? ) .
Hetalia: Axis Powers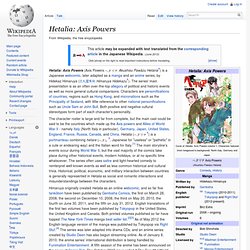 Kore wa Zombie Desu ka?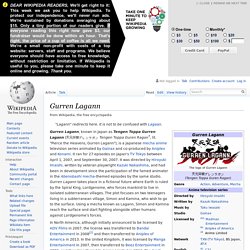 Gurren Lagann , known in Japan as Tengen Toppa Gurren Lagann ( 天元突破グレンラガン , Tengen Toppa Guren Ragan ? , literally "Heaven-Piercing Gurren Lagann") , is a Japanese mecha anime television series animated by Gainax and co-produced by Aniplex and Konami . It ran for twenty-seven episodes on Japan's TV Tokyo between April 1, 2007 and September 30, 2007.
Gurren Lagann
Baka and Test
Baka and Test ( バカとテストと召喚獣 , Baka to Tesuto to Shōkanjū ? , lit. Idiots, Tests, and Summoned Beasts) also known as Baka and Test: Summon the Beasts is a Japanese light novel series created by Kenji Inoue and illustrations by Yui Haga. The first novel in the series was released on January 29, 2007, and as of November 23, 2012, a total of fifteen volumes, including volume 3.5, volume 6.5, volume 7.5, volume 9.5, and volume 10.5, have been published by Enterbrain under their Famitsu Bunko publishing imprint .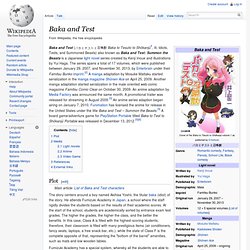 Bokurano: Ours ( ぼくらの , Bokura no ? , lit. "Our") is a Japanese science fiction manga by Mohiro Kitoh that was serialized in the monthly manga magazine Ikki from 2003 to 2009; 11 tankōbon have been published by Shogakukan . It is about a group of middle-school students who unwillingly assume the task of piloting a giant mecha named Zearth in a series of battles against mechas from parallel worlds , where the survival of Earth is dependent on their continuing to win at the cost of the life of the pilot of each battle.
Bokurano: Ours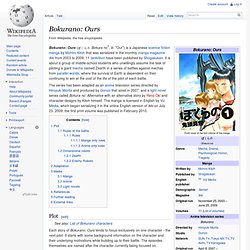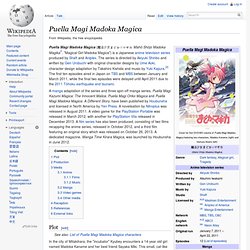 Puella Magi Madoka Magica ( 魔法少女まどか☆マギカ , Mahō Shōjo Madoka Magika ? , "Magical Girl Madoka of the Magus ") is a Japanese anime television series produced by Shaft and Aniplex . The series is directed by Akiyuki Shinbo and written by Gen Urobuchi with original character designs by Ume Aoki , character design adaptation by Takahiro Kishida and music by Yuki Kajiura . [ 2 ] The first ten episodes aired in Japan on TBS and MBS between January and March 2011, while the final two episodes were delayed until April 2011 due to the 2011 Tōhoku earthquake and tsunami .
Puella Magi Madoka Magica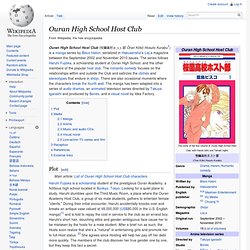 Ouran High School Host Club ( 桜蘭高校ホスト部 , Ōran Kōkō Hosuto Kurabu ? ) is a manga series by Bisco Hatori , serialized in Hakusensha 's LaLa magazine between the September 2002 and November 2010 issues. The series follows Haruhi Fujioka , a scholarship student at Ouran High School, and the other members of the popular host club . The romantic comedy focuses on the relationships within and outside the Club and satirizes the clichés and stereotypes that endure in shōjo . There are also occasional moments where the characters break the fourth wall . The manga has been adapted into a series of audio dramas , an animated television series directed by Takuya Igarashi and produced by Bones , and a visual novel by Idea Factory.
Ouran High School Host Club