Library futures
The future of the library. What is a public library for?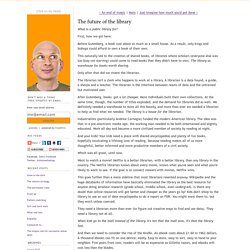 First, how we got here: Before Gutenberg, a book cost about as much as a small house. As a result, only kings and bishops could afford to own a book of their own. This naturally led to the creation of shared books, of libraries where scholars (everyone else was too busy not starving) could come to read books that they didn't have to own. How Obama's data-crunching prowess may get him re-elected.
President Obama posts a tweet during an online town hall meeting in July from the White House in Washington.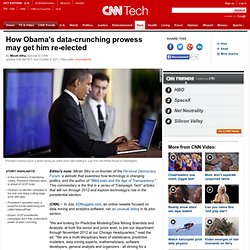 In the mechanics of identifying voters, President Obama's team is ahead of GOP rivalsObama's re-election campaign is the only one doing cutting-edge work with data President's operation uses a powerful social-networking tool called NationalFieldExpert: GOP presidential campaigns don't fully understand power of data crunching Editor's note: Micah Sifry is co-founder of the Personal Democracy Forum, a website that examines how technology is changing politics, and the author of "WikiLeaks and the Age of Transparency. " This commentary is the first in a series of "Campaign Tech" articles that will run through 2012 and explore technology's role in the presidential election. (CNN) -- In July, KDNuggets.com, an online newsite focused on data mining and analytics software, ran an unusual listing in its jobs section. Creating a Customer-Centric IT Culture.
It's sometimes tough for IT professionals to provide good customer service.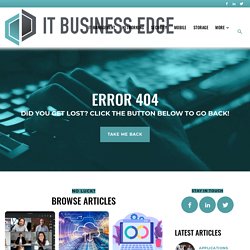 It's not because they don't want to, but because IT organizations tend to stress efficiency over empathy. Some IT help desks are more customer-centric than others, of course. When I interviewed Steven Zink, Ph.D., vice president of Information Technology and dean of University Libraries at the University of Nevada, Reno, he told me about in which the IT help desk is combined with the reference desk in the main university library and librarians and IT staffers work side-by-side. It's part of a larger practice of IT staff working within business units that Zink said has worked well for the university. In the case of the help desk: Hassle Maps: The Genesis Of Demand. "I had a big late fee for Apollo 13.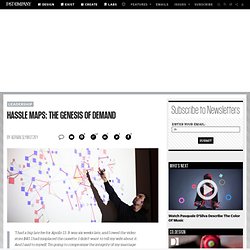 It was six weeks late, and I owed the video store $40. I had misplaced the cassette. Media digitisation: Book transubstantiation. ONCE Babbage buys a book he finds it hard to let go.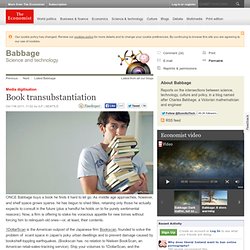 As middle age approaches, however, and shelf space grows sparse, he has begun to shed titles, retaining only those he actually expects to consult in the future (plus a handful he holds on to for purely sentimental reasons). Now, a firm is offering to slake his voracious appetite for new tomes without forcing him to relinquish old ones—or, at least, their contents. 1DollarScan is the American outpost of the Japanese firm Bookscan, founded to solve the problem of scant space in Japan's poky urban dwellings and to prevent damage caused by bookshelf-toppling earthquakes. (Bookscan has no relation to Nielsen BookScan, an American retail-sales-tracking service).
On the death of book publishers and other middlemen. Hot on the heels of Amazon signing publishing deals with authors, and thus doing an end-run around their publisher partners, another major e-reader company says it plans to do the same: Kobo is launching its own publishing arm and looking to sign deals with authors directly.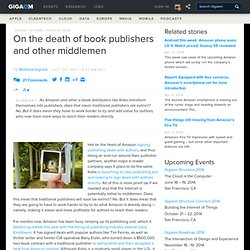 All of this is more proof (as if we needed any) that the Internet is potentially lethal to middlemen. Does this mean that traditional publishers will soon be extinct? No. But it does mean that they are going to have to work harder to try to do what Amazon is already doing — namely, making it easier and more profitable for authors to reach their readers.
---