Dot Net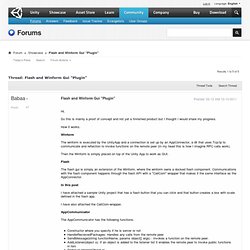 Hi, So this is mainly a proof of concept and not yet a finnished product but I thought I would share my progress. How it works:Winform The winform is executed by the UnityApp and a connection is set up by an AppConnector, a dll that uses Tcp/Ip to communicate and reflection to invoke functions on the remote peer (In my head this is how I imagine RPC calls work). Then the Winform is simply placed on top of the Unity App to work as GUI.
Flash and Winform Gui "Plugin"
Databound Schedule Controls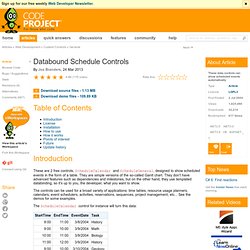 Table of Contents Introduction These are 2 free controls, ScheduleCalendar and ScheduleGeneral, designed to show scheduled events in the form of a table.
Over 60 Free Controls from DevExpress
C# Tools
Codehaus - C# Plugins and Tools
www.openwinforms.com - OpenWinForms.com - free winforms controls, free windows controls,free .net controls,free C# controls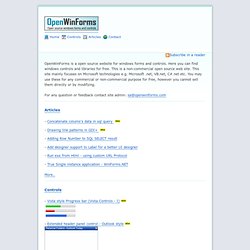 Subscribe in a reader OpenWinForms is a open source website for windows forms and controls. Here you can find windows controls and libraries for free.