Financial sector
Sverige bör nobba Super-euron tills demokratikraven är uppfyllda - Artikel av Adam Cwejman. Adam Cwejman är ordförande i liberala ungdomsförbundet.
Låt oss likna EU och Euro skapandet vid byggandet av ett hus. Problem har uppstått när den senaste och mest omfattande flygeln byggdes (Euron). Killing the Euro. Det tysta paradigmskiftet | Näringsliv. Nollvisionen.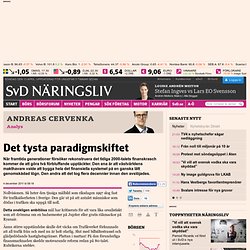 Så heter den tjusiga målbild som riksdagen 1997 slog fast för trafiksäkerheten i Sverige. Den går ut på att antalet människor som dödas i trafiken ska uppgå till noll. Detta onekligen ambitiösa mål har kritiserats för att vara lika orealistiskt som att drömma om en badsemester på Jupiter eller gratis räkmackor på Ryanair. Ännu större uppståndelse skulle det väcka om Trafikverket förkunnade att all trafik från och med nu är helt ofarlig. Slut med bilbältestrassel och glädjedödande hastighetsgränser. Det tysta paradigmskiftet | Näringsliv. Från guld till skuld - Bank & Finans - E24. Jon Huntsman: Too Big To Fail Is Too Big. By Simon Johnson The idea that big banks damage the broader economy has considerable resonance on the intellectual right.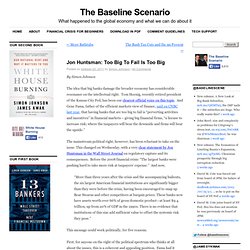 Tom Hoenig, recently retired president of the Kansas City Fed, has been our clearest official voice on this topic. And Gene Fama, father of the efficient markets view of finance, said on CNBC last year, that having banks that are too big to fail is "perverting activities and incentives" in financial markets – giving big financial firms, "a license to increase risk; where the taxpayers will bear the downside and firms will bear the upside."
---