Football Media
Sky Sports Football. The Sun. ARSENAL chief says they finally showed cutting edge away from Emirates as they boost grip on 4thRead article...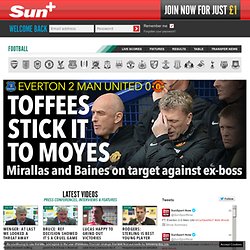 HULL boss says turning point in 3-0 loss v Arsenal was not winning free-kick before 2nd goal KOP star says he doesn't care how Liverpool do it as long as they cross the line in first placeRead article... LIVERPOOL boss heaped praise on whizkid after he helped Kop topple NorwichRead article... MAN UTD boss insists wantaway striker Danny Welbeck is still wanted by him at Old TraffordRead article... CANARIES winger claims going two goals down was suicidal but hails second-half effortRead article... NORWICH boss admits his side were staring down barrel of a thumping v KopRead article... Mirror Football. BBC SPORT Football. 21 April 2014 Last updated at 23:01 GMT Scores, Results & Fixtures Latest Football Sat 26 Apr 2014 - Premier League Southampton v Everton 12:45 Fulham v Hull 15:00 Stoke v Tottenham 15:00 Swansea v Aston Villa 15:00 West Brom v West Ham 15:00 Man Utd v Norwich 17:30 Sun 27 Apr 2014 - Premier League Sunderland v Cardiff 12:00 Liverpool v Chelsea 14:05 Crystal Palace v Man City 16:10 Mon 28 Apr 2014 - Premier League Arsenal v Newcastle 20:00 Sat 3 May 2014 - Premier League West Ham v Tottenham 12:45 Aston Villa v Hull 15:00 More fixtures Elsewhere on the BBC.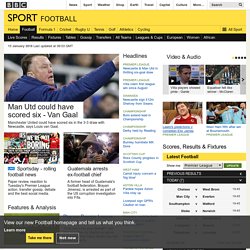 Sporting Life. ESPN Soccernet.
---