Career
6 Things to Know Before Starting a Business. This post originally appeared on the American Express OPEN Forum, where Mashable regularly contributes articles about leveraging social media and technology in small business.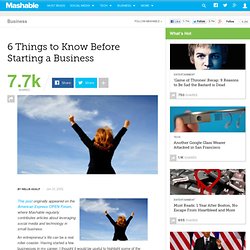 An entrepreneur's life can be a real roller coaster. Having started a few businesses in my career, I thought it would be useful to highlight some of the hard-won experience I've learned throughout the process — the kind of advice I wish I'd known when I started my first, or even second, business. They're hiring! - Google (1) - FORTUNE. 2012 Best Companies rank: 1 Current openings: 701** What they're looking for The company is hiring across the board, but especially in its sales and engineering teams.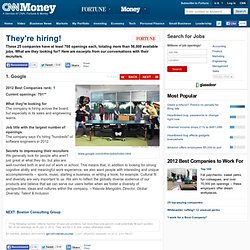 Job title with the largest number of openings The company says it's hiring "hundreds" of software engineers in 2012. Secrets to impressing their recruitersWe generally look for people who aren't just great at what they do, but also are well-rounded both in and out of work or school. The Ten Most Annoying Management Terms Of 2011. We are nearly at the end of 2011 and another year of mayhem behind.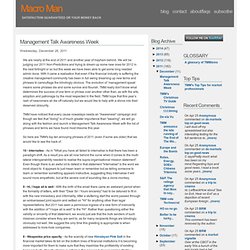 We will be judging our 2011 Non-Predictions and trying to dream up some new ones for 2012 in the next fortnight or so but this week we have been able to get some long needed admin done. With it came a realisation that even if the financial industry is suffering the creative management community has been in full swing dreaming up new terms and phrases to camouflage the blindingly obvious. How To Make Money Without A Job.
Richard Branson on When Inexperience Is an Advantage. Editor's Note: Entrepreneur Richard Branson regularly shares his business experience and advice with readers.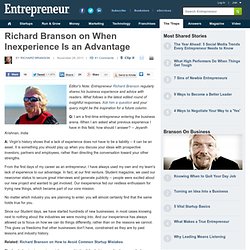 What follows is the latest edited round of insightful responses. Ask him a question and your query might be the inspiration for a future column. Q: I am a first-time entrepreneur entering the business arena. When I am asked what previous experience I have in this field, how should I answer? Why Marketing Best Practices Aren't Always Best. No matter what your profession, best practices give us tried and tested solutions to common problems.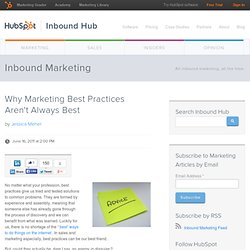 They are formed by experience and assembly, meaning that someone else has already gone through the process of discovery and we can benefit from what was learned. Luckily for us, there is no shortage of the " best" ways to do things on the internet . Is It Hard to Have a Meaningful Career?
Business Tools
5 Online Learning Resources to Help You Run a Better Business. This post originally appeared on the American Express OPEN Forum, where Mashable regularly contributes articles about leveraging social media and technology in small business.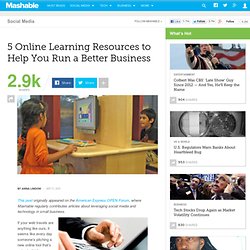 If your web travels are anything like ours, it seems like every day someone's pitching a new online tool that's going to "triple productivity!" Or "help you scale your business quickly!" Or "make doing payroll more fun than 10 barrels of monkeys!" OK, maybe not that last one. A Look at the Growing "Work From Home" Phenomenon [INFOGRAPHIC] Working from home is more prevalent and more widely accepted than ever.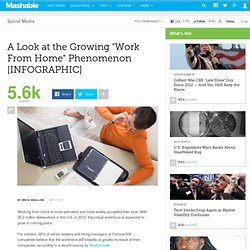 With 26.2 million teleworkers in the U.S. in 2010, the virtual workforce is expected to grow in coming years. For starters, 56% of senior leaders and hiring managers at Fortune 500 companies believe that the workforce will steadily or greatly increase at their companies, according to a recent survey by WorkSimple. The study findings outline the changing virtual workforce with a number of compelling stats and findings, as seen in the infographic below. Have you noticed an increase in the number of employees at your workplace that work remotely?
Let us know your story in the comments below. What A CEO Does. I am posting this as a MBA Mondays post.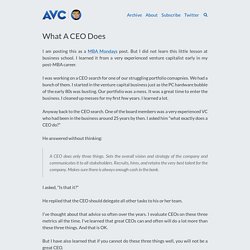 But I did not learn this little lesson at business school. I learned it from a very experienced venture capitalist early in my post-MBA career. I was working on a CEO search for one of our struggling portfolio comapnies. We had a bunch of them. I started in the venture capital business just as the PC hardware bubble of the early 80s was busting. The new three-way: CIO, CMO & Agency. Good article on AdAge this morning, Friends With (Digital) Benefits: CMOs Link With CIOs.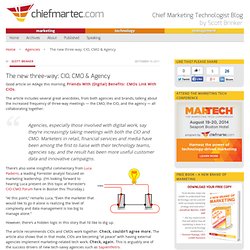 The article includes several great anecdotes, from both agencies and brands, talking about the increased frequency of three-way meetings — the CMO, the CIO, and the agency — all collaborating together: Agencies, especially those involved with digital work, say they're increasingly taking meetings with both the CIO and CMO. Marketers in retail, financial services and media have been among the first to liaise with their technology teams, agencies say, and the result has been more useful customer data and innovative campaigns. Want To Be A CMO? The Career Path May Surprise You. Think that being a wizard at developing splashy ads, branding, and social media campaigns generates an automatic ticket to become the next CMO or VP of Marketing?
Think again. According to a new study, only one-third of CMOs and VPs of marketing arrive at the top post because of their experiences in marketing. 5 Things To Do Every Day For Success. Fast Company wants you to have your best year yet in 2012; click for more advice and tips on how to work smarter, manage your career, and lead a more meaningful life. "You get up at what time? " I hear that a lot, along with "You are so lucky. " Training to Create Winning Grant Proposals for Grantseekers & More | Foundation Center. Foundation Fundraising: An Introductory Course | October 19, 2011 | Los Angeles, CA | Foundation Center. Best Social Media Tools For Marketing Your Business.
Social media is a growing field to advertise your business. Twitter and Facebook are large websites where a company can have thousands or even millions of people interacting with them on a daily basis. It is impossible to interact with each and every one of those individuals. That is why businesses need to take advantage of the best social media tools for marketing your business. Management tools are among some of the most user friendly tools that a marketer will need. Hoot Suite is a must for anyone who is on Twitter.
Inbound Marketing vs. Outbound Marketing [INFOGRAPHIC] Thanks to the Internet, marketing has evolved over the years. Consumers no longer rely on billboards and TV spots — a.k.a. outbound marketing — to learn about new products, because the web has empowered them. It's given them alternative methods for finding, buying and researching brands and products. The new marketing communication — inbound marketing — has become a two-way dialogue, much of which is facilitated by social media. Another reason why inbound marketing is winning is because it costs less than traditional marketing. Why try to buy your way in when consumers aren't even paying attention?
---