Foreign Language Learning
Learn 40 Languages for Free: Spanish, English, Chinese & More. How to learn languages for free?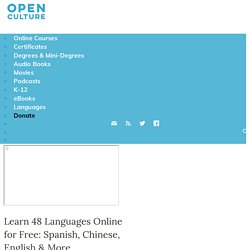 This collection features lessons in 40 languages, including Spanish, French, English, Mandarin, Italian, Russian and more. Download audio lessons to your computer or mp3 player and you're good to go. Arabic Arabic for Global Exchange – Web siteFrom Carnegie Mellon, a mini-course for individuals with no proficiency or extremely limited knowledge of Arabic language and culture who are about to begin study or work in an Arabic-speaking context.Arabic Language Lessons - iTunes FreeThe US Peace Corps serves up 10 free lessons that will teach you the Arabic spoken in Jordan. Home. Welcome to fsi-language-courses.org - the home for language courses developed by the Foreign Service Institute.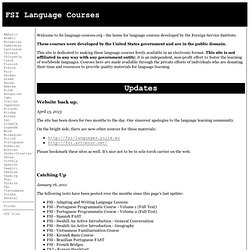 These courses were developed by the United States government and are in the public domain. This site is dedicated to making these language courses freely available in an electronic format. This site is not affiliated in any way with any government entity; it is an independent, non-profit effort to foster the learning of worldwide languages.
35 Best Online Language Learning Resources. Guest post by Goranka.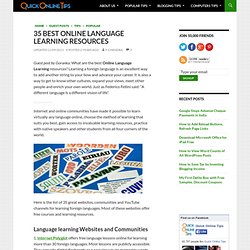 What are the best Online Language Learning resources? Learning a foreign language is an excellent way to add another string to your bow and advance your career.
French
Michel Thomas Method. The Michel Thomas Method is an original method developed by Michel Thomas for teaching languages.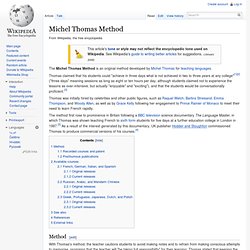 Thomas claimed that his students could "achieve in three days what is not achieved in two to three years at any college"[1][2] ("three days" meaning sessions as long as eight or ten hours per day, although students claimed not to experience the lessons as over-intensive, but actually "enjoyable" and "exciting"), and that the students would be conversationally proficient.[3] Thomas was initially hired by celebrities and other public figures, such as Raquel Welch, Barbra Streisand, Emma Thompson, and Woody Allen, as well as by Grace Kelly following her engagement to Prince Rainier of Monaco to meet their need to learn French rapidly.
Forvo: the pronunciation guide. All the words in the world pronounced by native speakers. Headstart2 -- About. Welcome.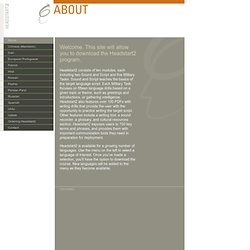 This site will allow you to download the Headstart2 program. Headstart2 consists of ten modules, each including two Sound and Script and five Military Tasks. Sound and Script teaches the basics of the target language script. Each Military Task focuses on fifteen language drills based on a given topic or theme, such as greetings and introductions, or gathering intelligence.
How to Learn Any Language in 3 Months. The Okano Isao judo textbook I used to learn Japanese grammar.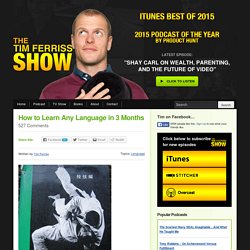 Post reading time: 15 minutes. Language learning need not be complicated.
---