Economic Crisis
Investment Outlook - Towards the Paranormal. How many ways can you say "it's different this time?"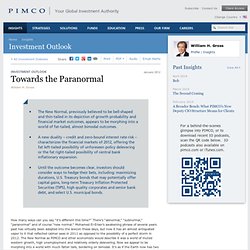 There's "abnormal," "subnormal," "paranormal" and of course "new normal." Mohamed El-Erian's awakening phrase of several years past has virtually been adopted into the lexicon these days, but now it has an almost antiquated vapor to it that reflected calmer seas in 2011 as opposed to the possibility of a perfect storm in 2012. Charlie Rose Show: Ray Dalio, Bridgewater Associates. You Can't Solve A Debt Problem With More Debt. "Whoever cannot seek the unforeseen sees nothing for the known way is an impasse.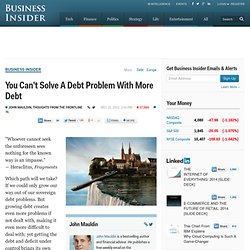 " ― Heraclitus, Fragments Which path will we take? If we could only grow our way out of our sovereign debt problems. But growing debt creates even more problems if not dealt with, making it even more difficult to deal with; yet getting the debt and deficit under control brings its own form of pain. Business Insider - The 25 Best Financial Blogs. The thinking man's finance blog it is not.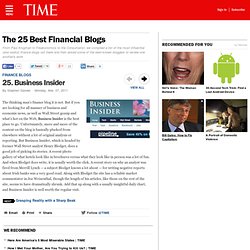 But if you are looking for all manner of business and economic news, as well as Wall Street gossip and what's hot on the Web, Business Insider is the best place to go. Unfortunately, more and more of the content on the blog is basically plucked from elsewhere without a lot of original analysis or reporting. But Business Insider, which is headed by former Wall Street analyst Henry Blodget, does a good job of picking its stories. A Run On The Global Banking System - How Close Are We? Guest Post via Gonzalo Lira Nine weeks after its bankruptcy, the general public still hasn't quite realized the implications of the MF Global scandal.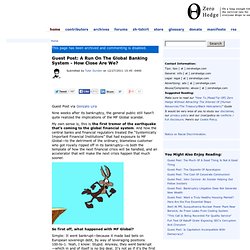 My own sense is, this is the first tremor of the earthquake that's coming to the global financial system. FINALLY, SOME EXCELLENT INVESTMENT ADVICE: Don't Play The Losers' Game. If you're an individual with some money to invest, the first thing you need to know if you want to invest intelligently is that you shouldn't play the Losers' Game.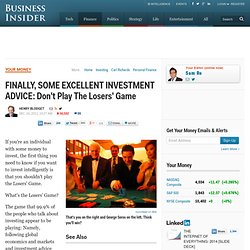 What's the Losers' Game? The game that 99.9% of the people who talk about investing appear to be playing: Namely, following global economics and markets and investment advice and trying to make smart decisions along the way. Global Macro Monitor | Monitoring the Global Economy. ZeroHedge | On a long enough timeline the survival rate for everyone drops to zero.
PAYBACK TIME: Citi Warns Of A Coming Decade Of Deleveraging. The Western World is just getting started on the second of two lost decades, according to a big report by Citi's Matt King.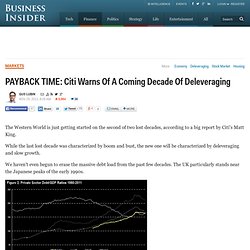 While the last lost decade was characterized by boom and bust, the new one will be characterized by deleveraging and slow growth. We haven't even begun to erase the massive debt load from the past few decades. The UK particularly stands near the Japanese peaks of the early 1990s.
---