Torrents
Index
BM Torrents!
GFT 2011 :: Home
BitSeduce
皇后OpenCD :: Home OpenCD(KHQ)皇后高品质音乐PT - Powered by NexusPHP
PassThePopcorn
Main
TheSwarm
ScienceHD
unnamed pearl
Opentrackers is a site that checks whether private bittorent communities are open. Most private bittorent communities have small time periods where they are open for signups as they require new members to keep the site going. Often users will find it difficult to check every single site manually and thus OpenTrackers was born. Simply look through the conveniantly alphabetically sorted list to have a complete overview of which trackers are open or closed! The brown leaf icon takes you to a review of the site you are interested in. If the site is open a large green circle will be displayed next to it so hurry and go sign up!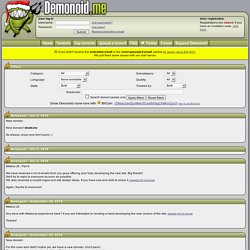 Hello guys!! After some well deserved vacations, here we are, back online. The site is now cloud based and there have been many changes to the code. As a result, you might see some weird glitches here and there. We'll do our best to have everything working smoothly as soon as possible so please bear with us.
Awesome-HD
LosslessClub.com