Fashion
Collection. TRENDLAND: FASHION & TREND BLOG + ART + DESIGN + PHOTOGRAPHY. LOOKBOOK.nu: collective fashion consciousness. A CLEAN CUT. Photo kim smith It's a new year, which usually means we go back to the gym and get a haircut in order to get off to a fresh start.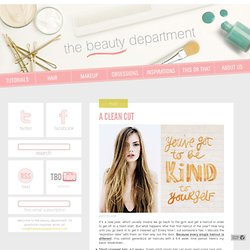 But what happens after that first haircut of the year? How long until you go back in to get it cleaned up? Every time I cut someone's hair, I discuss the "expiration date" with them on their way out the door. Because every single haircut is different.
Korean. Fashion Blogs/ News/ Magazines.
---