Portrait
39075-1.jpg (JPEG Image, 939 × 632 pixels) - Scaled (95%) 1603860.jpg (JPEG Image, 1000 × 665 pixels) - Scaled (90%) 3-part portraits. 36.jpg (895×610) When_we_were_young_b.jpg (900×450) Jambes__13_.jpg (JPEG Image, 720 × 480 pixels) 27 Beautiful Black and White Portraits. Think_again_b.jpg (800×534) Albert-einstein-at-beach-1945.jpg (423×592) Bad Control – Awesome Photoshop Colorized Photos. 50 Ultra Realistic Female Portrait Drawings. Technology brings more and more talented artists to the surface, who create astonishing digitally manipulated images on every possible theme, illustrating everything that you could possibly imagine.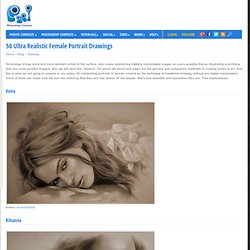 But, we still have the "classics", for whom the pencil and paper are the genuine and compulsory materials in creating works of art. And this is what we are going to present to you today. 50 outstanding portraits of women created by the technique of traditional drawing, without any digital manipulation. Some of them can easily trick the eye into believing that they are real photos of real people, that's how beautiful and expressive they are. True masterpieces. Keira. The Beauty Of Women Photography. B-w_living.jpg (JPEG Image, 640 × 480 pixels) Ann He - memories. 1.jpg (JPEG Image, 550 × 818 pixels) - Scaled (66%)
Looks like good Photography by Navis. BACK TO THE FUTURE 2 (2011) : Irina Werning - Photographer. Now its time for KOREA, TAIWAN AND TOKYO.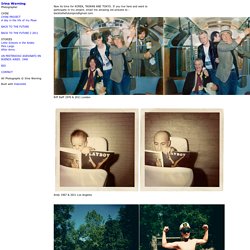 If you live here and want to participate in my project, email me amazing old pictures to : backtothefuturepics@gmail.com Riff Raff 1976 & 2011 London.
---