IDEAS
Cleaning generally isn't anyone's favorite activity, but it's a lot less fun when you're spending your hard-earned dollars on several supplies. You can, however, effectively clean your home with a few things you probably already have. Here's how to do it. This post is broken down room by room, but since many rooms have similarities you'll find that, for example, a living room tip is also very applicable to the bedroom.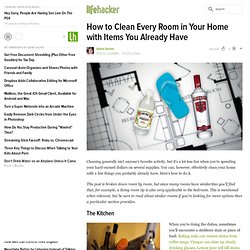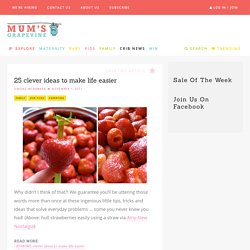 Posted on November 01, 2011 in Bed, Bath & Kitchen , Decor & Furniture , Organise & Personalise by Simone Via: amy-newnostalgia.blogspot.com Why didn't I think of that?! We guarantee you'll be uttering those words more than once at these ingenious little tips, tricks and ideas that solve everyday problems … some you never knew you had! (Above: hull strawberries easily using a straw). . Via: apartmenttherapy.com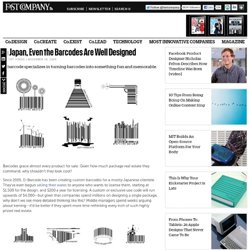 Barcodes grace almost every product for sale. Given how much package real estate they command, why shouldn't they look cool? Since 2005, D-Barcode has been creating custom barcodes for a mostly Japanese clientele.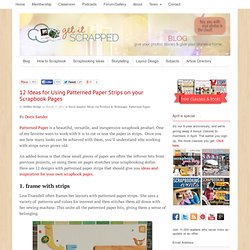 12 ideas for using patterned paper strips on your scrapbook pages
By Doris Sander Patterned Paper is a beautiful, versatile, and inexpensive scrapbook product. One of my favorite ways to work with it is to cut or tear the paper in strips. Once you see how many looks can be achieved with them, you'll understand why working with strips never grows old. An added bonus is that these small pieces of paper are often the leftover bits from previous projects, so using them on pages stretches your scrapbooking dollar.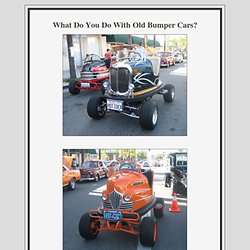 Yes, you read that right; these little beasties are street legal. They run on either Kawasaki or Honda motorcycle engines and co-opt vintage bumper car bodies into the most awesome form of mini-car we've seen in too long. There are seven of these little monsters floating around California , and they're all the creation of one man, Tom Wright, a builder in the outskirts of San Diego who figured the leftovers of the Long Beach Pike amusement park needed a more dignified end than the trash heap. They were originally powered by two cylinder Harley Davidson Motorcycle engines but they rattled like heck because of the two cylinder vibration and Tom replaces them with four cylinder Honda or Kawasaki 750's and a couple have been measured as capable of 160 MPH, which is terrifyingly fast in machines with such a short wheelbase. By the way, they are almost indestructible in accidents!
first image 'blob VB3' by dmvA photo by mick couwenbergh/rini van beek belgian architectural firm dmvA designed 'blob VB3', a mobile unit for the office of xfactoragencies as an extension to the 'house'. the space - egg house consists of a bathroom, kitchen, lighting, a bed and several niches for storage. the nose can be opened automatically and functions as a kind of porch. it easily transportable and can also be used as an office, guestroom or garden house. polyester was the primarily material used in construction of the 'blob VB3'.
Out of all of the projects we've posted on this year, there are ten that stood out for the creators' originality and their ability to inspire us to no end. These made us stand back in awe, almost in disbelief that someone could not only think of such a creative idea but execute on it so flawlessly. While in some cases it was a collaborative effort involving many people, in still others only one person was involved, who dedicated countless hours to completing his or her seemingly insurmountable task. They challenged us to push our own creative limits and asked us to see the world in a remarkably different way. As we start off the new year, may these people inspire you to pick up that project you've been meaning to get to or start taking those lessons you've been putting off. Here's to making 2012 your personal best year ever.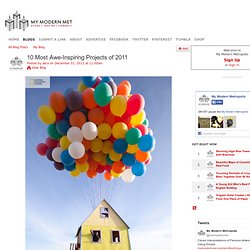 10 Most Awe-Inspiring Projects of 2011