IDEAS
How to Clean Every Room in Your Home with Items You Already Have. *Gasp!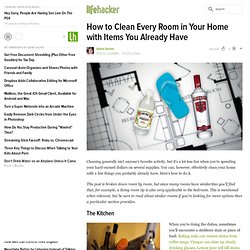 LookatthatWeim! * Ahem. Ok, I'm rational now. 25 clever ideas to make life easier. Via: amy-newnostalgia.blogspot.com Why didn't I think of that?!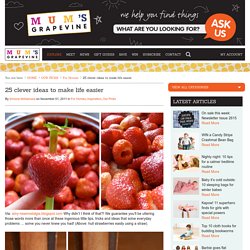 We guarantee you'll be uttering those words more than once at these ingenious little tips, tricks and ideas that solve everyday problems … some you never knew you had! (Above: hull strawberries easily using a straw). 12 ideas for using patterned paper strips on your scrapbook pages. By Doris Sander Patterned Paper is a beautiful, versatile, and inexpensive scrapbook product.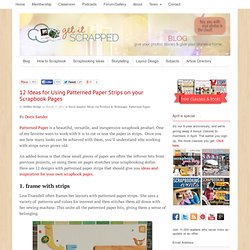 One of my favorite ways to work with it is to cut or tear the paper in strips. Once you see how many looks can be achieved with them, you'll understand why working with strips never grows old. An added bonus is that these small pieces of paper are often the leftover bits from previous projects, so using them on pages stretches your scrapbooking dollar. What Do You Do With Old Bumper Cars? - Yes, you read that right; these little beasties are street legal. Yes, you read that right; these little beasties are street legal.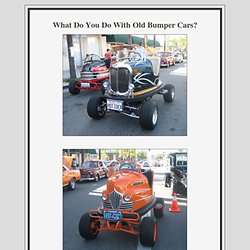 They run on either Kawasaki or Honda motorcycle engines and co-opt vintage bumper car bodies into the most awesome form of mini-car we've seen in too long. There are seven of these little monsters floating around California , and they're all the creation of one man, Tom Wright, a builder in the outskirts of San Diego who figured the leftovers of the Long Beach Pike amusement park needed a more dignified end than the trash heap. They were originally powered by two cylinder Harley Davidson Motorcycle engines but they rattled like heck because of the two cylinder vibration and Tom replaces them with four cylinder Honda or Kawasaki 750's and a couple have been measured as capable of 160 MPH, which is terrifyingly fast in machines with such a short wheelbase.
By the way, they are almost indestructible in accidents! THIS DAY. 10 Most Awe-Inspiring Projects of 2011. Out of all of the projects we've posted on this year, there are ten that stood out for the creators' originality and their ability to inspire us to no end.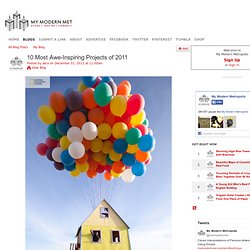 These made us stand back in awe, almost in disbelief that someone could not only think of such a creative idea but execute on it so flawlessly. While in some cases it was a collaborative effort involving many people, in still others only one person was involved, who dedicated countless hours to completing his or her seemingly insurmountable task. They challenged us to push our own creative limits and asked us to see the world in a remarkably different way. As we start off the new year, may these people inspire you to pick up that project you've been meaning to get to or start taking those lessons you've been putting off.
Here's to making 2012 your personal best year ever. Paper cuts - Rolls on the Behance Network.
---