Trend Analysis
Canadian Musician
fyimusic.ca — Canada's Music Industry News Source
Top DMDS Downloads: 1. Slash – You're A Lie (Universal) 2. fun. – We Are Young (ft. Janelle Monae) (Warner) 3.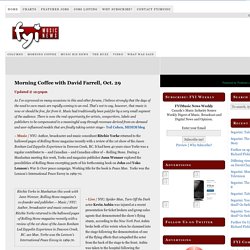 30 Years Of Music Industry Change, In 30 Seconds Or Less... - Digital Music News
The Next Big Sound
Keith Holzman,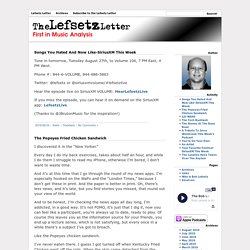 I haven't been able to hear. That's a bit of an overstatement, but not by much, and it's lasted almost a complete week. You see a cold was going around the condo, and just when I thought I'd escaped, it bit me in the ass. But you've got to know my personality, nothing's gonna stop me from hitting the slopes. Not because I want to, but because it's my job. There's so much we don't want to do, but if we just put one foot in front of the other we discover unforeseen rewards.
What They'll Never Tell You About the Music Business: "The Myths, the Secrets, the Lies (and a Few Truths)" (9780823084395): Peter M. Thall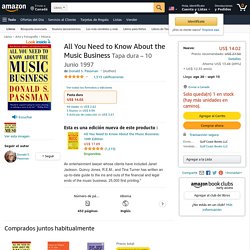 Amazon.com Review Our band is about to get beyond the local scene and start wrestling with the industry for record deals and national tours, so I practically jumped out of my skin when I finally found this book. It completely demystifies the workings of the entire music industry--in a musician-friendly way. A tiny, selfish neuron in me hesitated for a moment about telling the world of this book--but hey, we musicians are all in this together. If everyone negotiating with record companies read and used this book, we'd collectively be better able to get the sort of financial rewards our art deserves.
All You Need to Know About the Music Business: Revised and Updated for the 21st Century (9780684870649): Donald S. Passman
Music, Money, and Success: The Insider's Guide to Making Money in the Music Industry (Little Book Series) (9780825672828): Jeffrey Brabec, Todd Brabec, Jefferey Brabec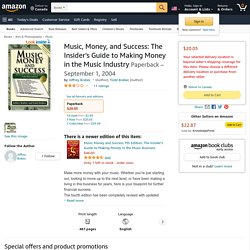 Review An essential guide for any composer, songwriter, or professional in the film and television music industry. -- John Williams, Academy Award-winning composer Guided tour of the revenue streams flowing through the music business — it teaches you how to survive the rapids. -- American Songwriter