MUSIC ASSOCIATIONS
CIRAA Links. News. By Music Canada on Jul 06, 2011 Through this site we champion the music industry in Canada and support our members' efforts to rebuild the marketplace for recorded music.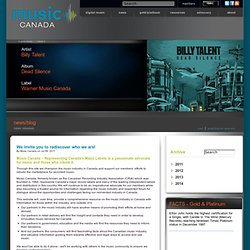 Music Canada, formerly known as the Canadian Recording Industry Association (CRIA) which was founded in 1964, represents Canada's major record labels and many of the leading independent labels and distributors in this country. We will continue to be an inspirational advocate for our members while also becoming a trusted source for information regarding the music industry and respected forum for dialogue about the opportunities and challenges facing our reinvented industry in Canada. This website will, over time, provide a comprehensive resource on the music industry in Canada with information for those within the industry, and outside of it.
Songwriters Association of Canada. Music Managers Forum Canada. CARAS. Www.cmw.net. CIMA. American Federation of Musicians CANADA. Français Office of the Vice-President from Canada Alan Willaert Vice President from Canada, AFMawillaert@afm.org Phone: (416) 391-5161, ext. 227 Fax: (416) 391-5165 The Canadian Federation of Musicians [CFM] (formerly referred to as AFM Canada) is the leading professional organization of its kind available to Canadian musicians.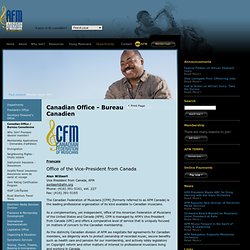 CAPACOA. September 28, 2012 - CAPACOA and PACT initiate discussions with Re:Sound regarding retroactive licensing.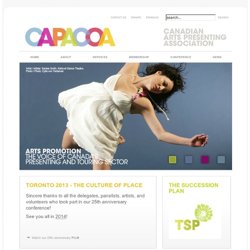 Read more September 28, 2012 - Registration is now open for CAPACOA's 25 th anniversary conference, Read more. The Canada Council for the Arts - Canada Council for the Arts - Conseil des Arts du Canada. American Federation of Musicians. CRIAA.
---