Great E-book Sites
Do E-Reader Owners Read More Books? [INFOGRAPHIC] - OEDB.org
So you want to start a Kindle lending program | code4lib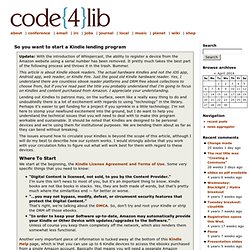 Update: With the introduction of Whispercast, the ability to register a device from the Amazon website using a serial number has been removed. It pretty much takes the best part of the following process and throws it in the trash. Bummer. This article is about Kindle ebook readers. The actual hardware Kindles and not the iOS app, Android app, web reader, or Kindle Fire.
e-Book Formats and Devices Infographic - OEDB.org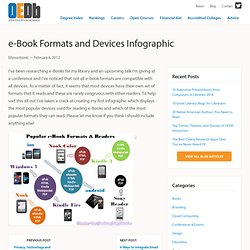 I've been researching e-Books for my library and an upcoming talk I'm giving at a conference and I've noticed that not all e-book formats are compatible with all devices. As a matter of fact, it seems that most devices have their own set of formats that it reads and these are rarely congruous with other readers. To help sort this all out I've taken a crack at creating my first infographic which displays the most popular devices used for reading e-Books and which of the most popular formats they can read.
Library eBooks Part I looked at how the big six, now the big five, publishers licensed their books to libraries using three different vendors.
ebooks - Library eBooks Part II: The Fully Illustrated Guide to Borrowing eBooks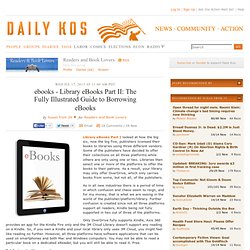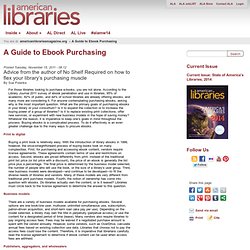 For those libraries looking to purchase e-books, you are not alone.
A Guide to Ebook Purchasing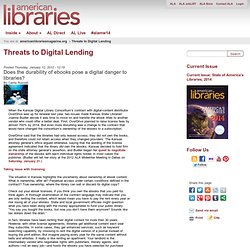 Threats to Digital Lending
When the Kansas Digital Library Consortium's contract with digital-content distributor OverDrive was up for renewal last year, two issues made Kansas State Librarian Joanne Budler decide it was time to move on and transfer the ebook titles to another vendor who could offer a better deal.
In their efforts to implement ebooks, school libraries face a set of challenges that differ from those confronting their public and academic counterparts.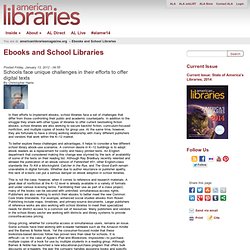 Ebooks and School Libraries
ebooks-in-education
Or get out at least until there is a better system? I know what you are going to say, I can hear it already – "We can't! Our patrons demand ebooks!"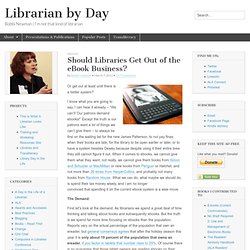 Should Libraries Get Out of the eBook Business?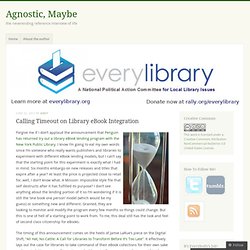 Calling Timeout on Library eBook Integration
Forgive me if I don't applaud the announcement that Penguin has returned try out a library eBook lending program with the New York Public Library.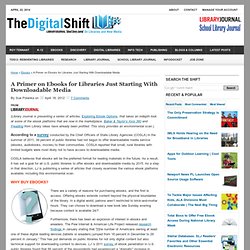 (Library Journal is presenting a series of articles, Exploring Ebook Options, that takes an indepth look at some of the ebook platforms that are now in the marketplace. Baker & Taylor's Axis 360 and Freading from Library Ideas have already been profiled. This story provides an environmental scan.) According to a survey conducted by the Chief Officers of State Library Agencies (COSLA) in the summer of 2011, 39 percent of public libraries had not begun to offer downloadable media service (ebooks, audiobooks, movies) to their communities.
A Primer on Ebooks for Libraries Just Starting With Downloadable Media — The Digital Shift
Electronic books–that still sounds strange to me, like electronic cigarettes or fast food.
Ebooks and libraries–an uneasy relationship « @ the library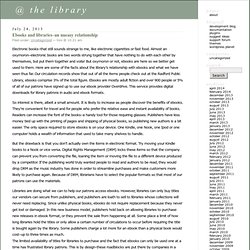 The Kindle is missing a pretty important feature – support for library books. It is a feature that's a bit overhyped - most libraries don't have a super-impressive range of books, you have to wait for your turn, and so forth. However, it's still an important feature. Courtesy Kathy we get this question - Do you feel there is any hope at all that Kindle will ever allow library books?
Will Kindle ever add support for library books? « Kindle Review – Kindle 3 Review, Kindle vs Nook
Navigating the Ebook Revolution
It's here.
Jodi Picoult helped kick off the campaign. Today, Maureen Sullivan, president of the American Library Association, announced the launch of "Authors for Library Ebooks," a new initiative that asks authors to stand with libraries in their quest for equitable access to e-books. Bestselling authors Cory Doctorow, Ursula K.
Bestselling authors call for library ebook lending - District Dispatch
The eBook User's Bill of Rights
The eBook User's Bill of Rights is a statement of the basic freedoms that should be granted to all eBook users. The eBook User's Bill of Rights Every eBook user should have the following rights: the right to use eBooks under guidelines that favor access over proprietary limitationsthe right to access eBooks on any technological platform, including the hardware and software the user choosesthe right to annotate, quote passages, print, and share eBook content within the spirit of fair use and copyrightthe right of the first-sale doctrine extended to digital content, allowing the eBook owner the right to retain, archive, share, and re-sell purchased eBooks
Over the last few years, as a fifth of American adults have gotten ereaders, ebooks have transformed the book market and reading landscape. The library market is no exception. There's now an array of established vendors and emerging options for libraries to choose from in order to deliver ebooks to patrons. In my job as the librarian at one of the emerging options (Unglue.it), I've seen the pros and cons of various models, and thought about what those mean. Here's my conclusion: ebook models make us choose. And I don't mean choosing which catalog, or interface, or set of contract terms we want — though we do make those choices, and they matter.
Ebooks Choices and the Soul of Librarianship
Libraries, patrons, and e-books
Why Your Library May Not Have the E-Book You Want
Organizing eBooks
Why Libraries Need to Adopt a Paid Membership Program for Country Wide Access to eBooks
How to Talk to Your Patrons About Penguin & Other Publishers Not Loaning eBooks to Libraries
E-Books, Libraries and Democracy
What You Can Do about Ebooks and Libraries
Big Six eBooks in libraries, a comparison chart